As a College of Education student enrolled in a course requiring practicum hours, you will need to complete a Clinical Field Experience Verification Form.
NOTE
Other Document Management forms have a different workflow. If you need to complete a different form, such as the ECS Birth PreK Practicum Verification, Instrument for Measuring Leadership Effectiveness, or a Clinical Practice Evaluation, see our article titled Document Management Forms for assistance.
There are two versions of the form:
Clinical Field Experience Verification Form (No Fingerprint Clearance)

Does NOT require a third-party signature to complete
Clinical Field Experience Verification Form (Fingerprint Clearance)

Does require a third-party signature to complete
If you are unsure which form you need, you can contact your instructor, contact your Field Experience Counselor, or check your Course Description in the Syllabus. You can check your course's requirements by navigating to the Syllabus tab in the navigation menu on the left side.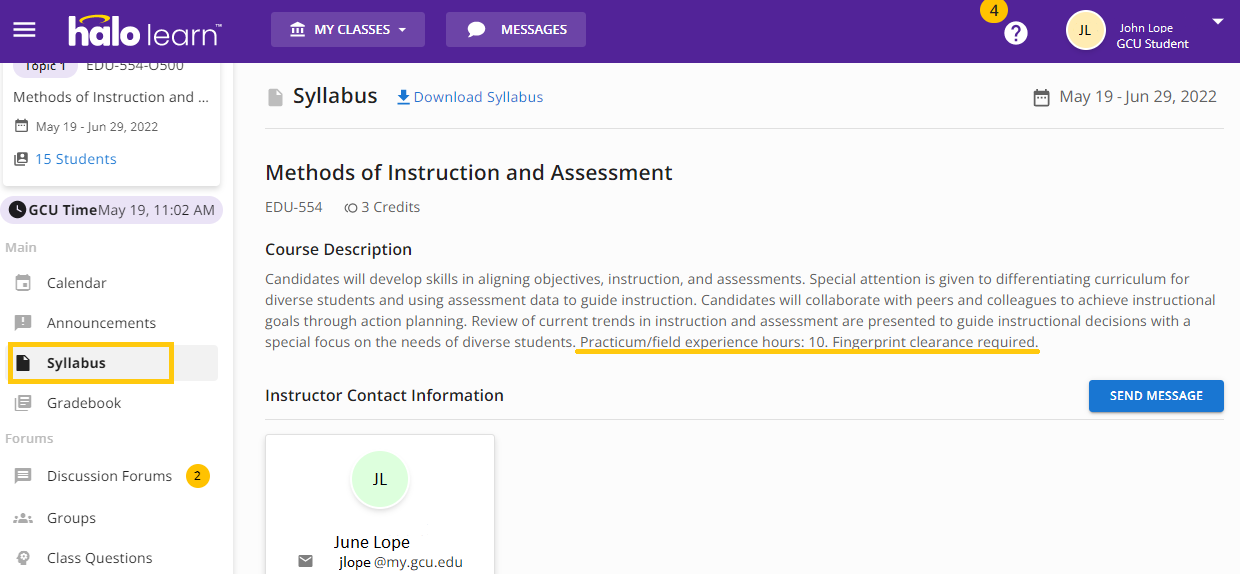 Completing the form
You can send your mentor a reminder email to sign the form once every 24 hours by clicking on the Remind icon under Actions.
After clicking on Remind, a dialog box will appear enabling you to write a brief message. When done, click on Send Reminder. The mentor will be sent a new link to the document.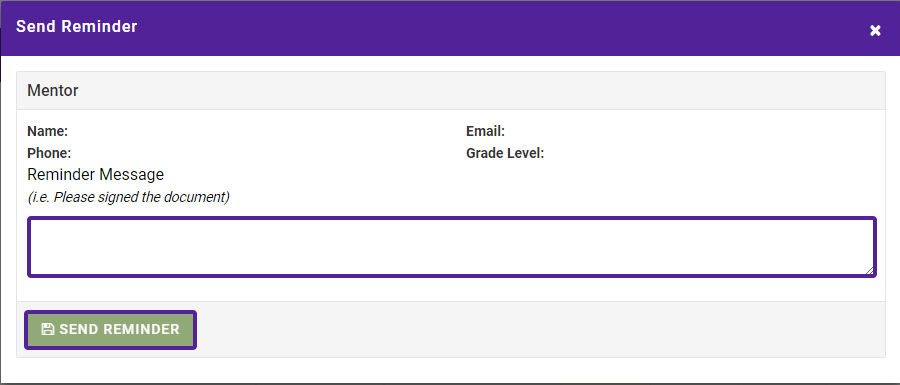 A form entry can be canceled by clicking on the Cancel icon, which looks like a trash can, under Actions.



This should be done if:
The form was completed with errors by either the student or mentor
The form entry was not signed by a mentor within 4 days, and has therefore expired. (The form submission window remains open for 4 years after the course start date, but individual entries for a form expire if they are not completed within 4 days of submission by the student).
After clicking on Cancel, a dialog box will appear requiring the student to enter a reason for canceling the document. When done, click on Cancel Document.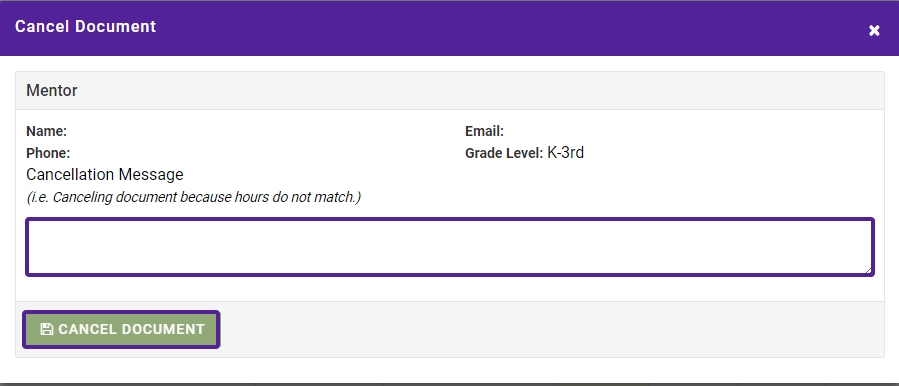 NOTE If your practicum requires a mentor's signature, they will see the cancellation message you submit.
Once the document has been canceled, the status will update to Canceled.
If you experience any technical issues when filling out the form, we recommend the following troubleshooting options:
Ensure that you have entered the information correctly, paying special attention to date ranges entered for Field Experience and that a professional email was entered for your mentor (if applicable).
Try using a different browser. See Supported Browsers for more information.
Try cancelling the form entry and creating a new one.
If you experience issues with viewing the completed form after downloading it, we recommend the following troubleshooting options:
Frequently Asked Questions
Troubleshooting for Mentors
Mentors should receive an email with a link to whichever form they are responsible for signing. If a mentor is unable to open the form on their work computer, they can try to access the form from a mobile device (smartphone or tablet) or forward the link to a personal computer. It's also possible that the form entry may have expired. Form entries expire 4 days after they are sent to the mentor. If the form entry is expired, simply cancel it and create a new entry.
Some forms are completed by faculty supervisors who have a GCU email address. If this situation applies to you, your faculty supervisor can also access the form they need to sign by navigating to https://documentsign.gcu.edu/. To access the website, faculty supervisors should log in using their @my.gcu.edu or @gcu.edu email address and password.
If none of these steps or situations apply, mentors / faculty supervisors should contact Technical Support for assistance.
If you were assigned a GCU Site Supervisor and you are completing an internship or student teaching program, your Site Supervisor will need to complete the evaluation(s) for you before you have access in the Document Management System (DMS). Once they complete your evaluation(s), you will have access to download the form in the DMS so you can upload it to Halo. See
Document Management Forms
for more information.