When you are experiencing a browser issue, it is best to begin with Basic Troubleshooting. If basic troubleshooting does not resolve your issue, your issue might be browser specific.
While there are many different browser types, Internet Explorer, Microsoft Edge, Google Chrome, Mozilla Firefox, and Safari are the most widely used browsers, and the only browsers we support. Below we'll cover several common issues and resolutions for some of these browsers.
Internet Explorer
Compatibility View is a setting inside of Internet Explorer that can help fix display issues between your browser and the website you are visiting. If you run into any issues with formatting, adjusting compatibility mode may help. Check out this article for more information on Enabling Compatibility View in Internet Explorer.
Internet Explorer on Windows 8.1
In Windows 8.1 there are two different ways to access Internet Explorer. The first way is to open Internet Explorer from within the Desktop mode, which gives you the standard Internet Explorer layout that can be found on Windows 7. 
The second is to access the Internet Explorer tile from Metro Mode. This version of Internet Explorer is visually different than the typical Internet Explorer browser and is not compatible with GCU sites. If you are using IE in tile mode, the address bar is at the bottom of the screen.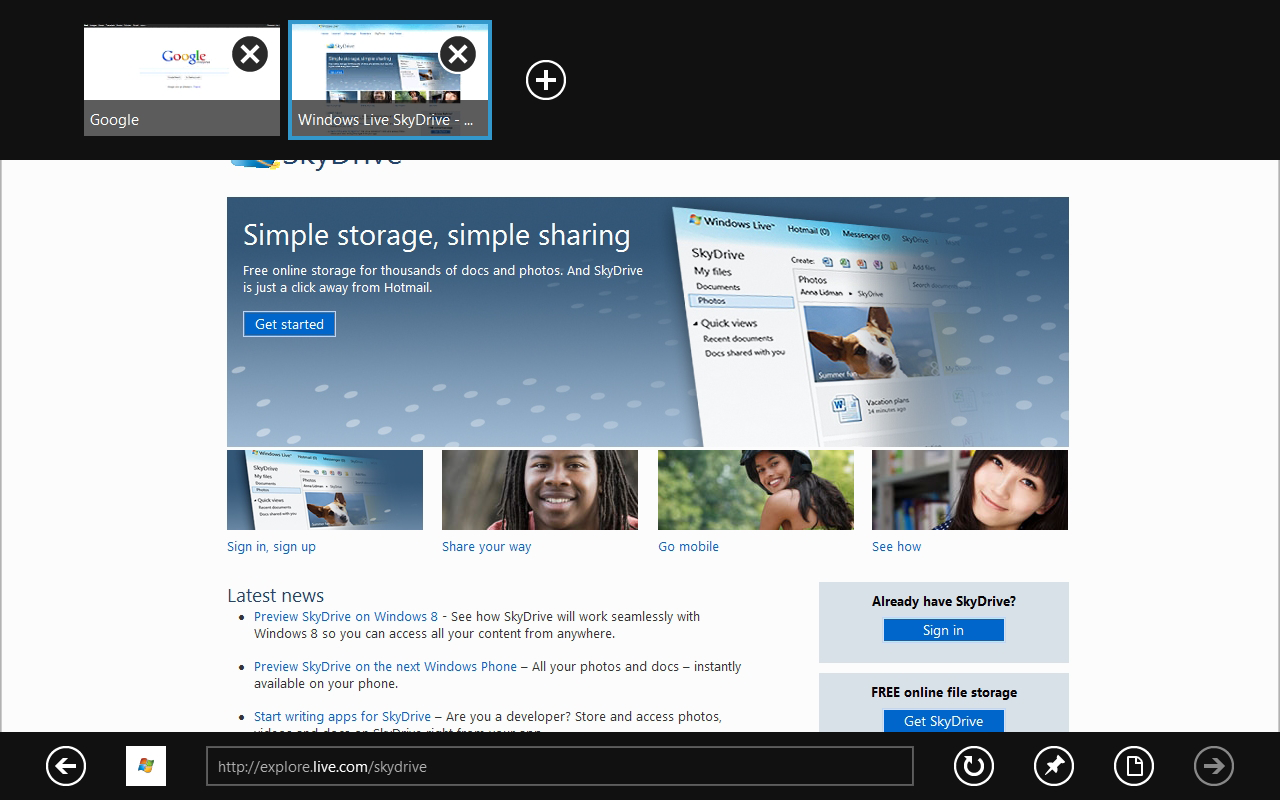 Microsoft Edge
Microsoft Edge is a browser that was created to replace Internet Explorer on computers with a Windows 10 operating system. If you are having difficulties loading or accessing a page using Edge, one troubleshooting option to try opening your page with Internet Explorer. To do this, click on the three dots that are located in the upper right corner of your Edge screen. Click the option that says Open with Internet Explorer.
Google Chrome
One of the first troubleshooting steps when investigating browser issues with Google Chrome is to utilize incognito mode. Incognito mode allows you to launch Chrome without extensions and apps, and is also useful if you want to be logged into multiple accounts for a website. If you cannot reproduce the error in Incognito mode, then it can be assumed that installed extensions or apps may be causing the issue. 
To launch incognito mode, click the Chrome menu in the top right-hand corner of your browser and select New incognito window. Alternatively, you can press Ctrl+Shift+N on your keyboard while in Chrome.
A new window will open with the incognito icon in the upper left-hand corner.
If you have identified that the issue is caused by an extension, type chrome://extensions in the address bar and disable extensions one by one to identify which extension is causing the issue.
Firefox
If you are experiencing issues using Firefox, check out Mozilla's article to troubleshoot and diagnose Firefox problems.
Browsers on Tablets
Currently, iPads and other eReaders, including Chromebooks, are not fully compatible with LoudCloud. Several operations within LoudCloud can be performed using these devices such as accessing and reading eBooks through the Web Viewer. If technical issues arise on unsupported devices, there is a limited amount of troubleshooting that can be done. It is encouraged that you use supported devices to avoid these issues. If you are unsure whether or not your device is supported, please visit our Technical Requirements article.