GCU utilizes many electronic resources both inside and outside of Halo Learn to enhance your learning experience. Some external resources require programs or add-ons to be installed on your computer. The Virtual Classroom, for instance, uses Unity Web Player. Without it, your screen will display an install now notification. Keep in mind that Unity Web Player is not compatible with Google Chrome or Microsoft Edge.
Unity Web Player is supported by the following browsers:
Internet Explorer
Safari
Firefox
To install the Unity Web Player, select the Install Now! icon in the center of the screen.

Depending on the browser you're using, you may need to locate the install file in your Downloads folder. Double-click the file in order to start the installation process.
Once you have double-clicked on the install file, you will notice the install window. To move forward, select Run.
Next, you will see the License Agreement. Select I Agree to continue with the installation process.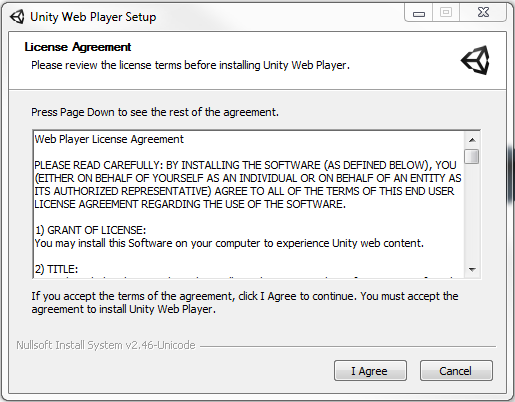 Once Unity Web Player has been installed successfully, select Finish. In your browser, you may see a notification toward to the top of the screen asking if you would like to Run this time or Always run on this site. We suggest choosing Always run on this site, but it's completely up to you!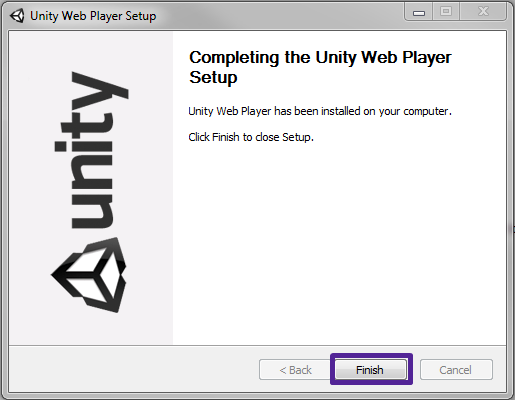 After you have made your selection, please allow your browser a minute or two to load the resource. Errors
If the Unity Web Player continues to display an "Install now!" message when on the lc.gcumedia.com page, and Unity Web Player is displayed in the Control Panel, you may need to adjust the browser's add-ons or plug-ins. Instructions are provided on how to make those changes in each browser:
To manage Add-ons in IE, click the Tools button
and then select Manage add-ons.
Locate Unity Web Player in the Manage Add-ons dialog box and select Enable.
If the option is not available, check the Control Panel to ensure that Unity Web Player installed properly.
Apple uses the word Extension in place of Add-on or Plug-in, but they serve the same function.
With Safari open, click on Safari in the top-left corner of the Menu Bar and choose Preferences. Alternatively, you can hold the command key and press comma (,).
From the Preferences menu, select the Extensions tab at the top. The list to the left is populated with all of your Safari extensions.
To enable an extension, click the check box to the left of the extension.
To enable the Unity Web Player, navigate to the three lines button in the top right corner and select Add-ons and Extensions on Window computers or just Add-ons on Mac computers.
Select Plugins to view all of the installed plugins. Locate the Unity Web Player in this list and select Always Activate after clicking on the three dots to the right of the plugin.