This article refers to the discussion forums within the newest LMS platform, which is currently in beta testing. If you are not part of the beta test, please see (LMS) Navigating the Forums for assistance instead.
The Discussion Forums page contains links to the Class Introductions and the weekly discussion questions for each topic. To access this page, select Discussion Forums from the list of options on the left side of your classroom.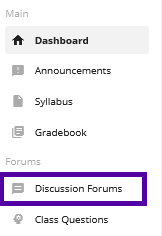 Once there, all available discussion questions for the class will be visible. The questions are listed in order and are labeled with their appropriate topic designation and start date. The Class Introductions is a place to post a short biography and to get to know your classmates. The Discussion Questions is a place to participate in class discussions for the current topics. The Unread Posts and Total Posts columns are useful for determining if there are new posts to read and respond to.