This article describes the Student Gradebook within the newest LMS platform, which is currently in beta testing. If you are not part of the beta test, please see (LMS) Checking Your Grades for assistance instead.
It's important to keep an eye on your progress throughout a course. By going to the Gradebook, you can view the grades for assignments, quizzes, discussion questions, and participation.
To access the Gradebook, click Gradebook on the left side menu. In this menu, there will be an indication of the number of unread feedback comments from the instructor.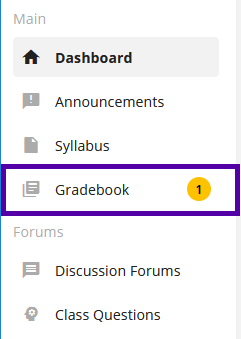 The Gradebook displays each Topic and the assessments contained within. By default, the Topic details are expanded. To collapse the details, click Collapse All or press the arrow to the left of the Topic.
When the Topic is expanded you can view the Due Date, Submission Date, Status, Score, and Feedback for the assessments.
Viewing Feedback
Once an assignment has been graded, you can view the score and any feedback from the instructor through the Gradebook.
To view feedback, navigate to an assignment that has the status Published.


Click View Feedback. If there is unread feedback, the button will be displayed with a blue background. If you have read the feedback, it will be displayed as a white background with a blue outline.


The feedback includes comments made by the instructor and a breakdown of the rubric.