ThinkingStorm is a live online tutoring service. Think of it as a virtual chalkboard where students and tutors can work out problems and diagrams together in real-time. The software works on both Windows and Macs and is optimized for low-bandwidth, so it works great with practically any computer, and with any internet connection.
GCU wants every student to be successful and as such, the university will pay for the first ten (10) hours of ThinkingStorm tutoring that you use. This prepaid amount of ten (10) hours is allocated per year (January 1st – December 31st). Once you expend your annual prepaid hours, you will have the option of continuing with ThinkingStorm tutoring services, but you will need to pay out of pocket for the time used.
Keep in mind that GCU offers its own free tutoring services as well, and we recommend attempting to schedule an appointment before using your 10 hours of ThinkingStorm tutoring. If you are an online student contact your Student Services Counselor or email Online.StudentTutors@gcu.edu to schedule an appointment. If you are a traditional student taking classes on campus, check out our article Career Connections for more information about scheduling an appointment with a Lead.
Accessing ThinkingStorm
To access ThinkingStorm, you will need to log in to your GCU Portal with your GCU email address and password. Once logged in, ThinkingStorm can be accessed by clicking the ThinkingStorm App from the My Apps section.
NOTE
You will need to manually add the ThinkingStorm app to your dashboard the first time you want to use it. For instructions on how to add apps, review
Navigating the GCU Portal
.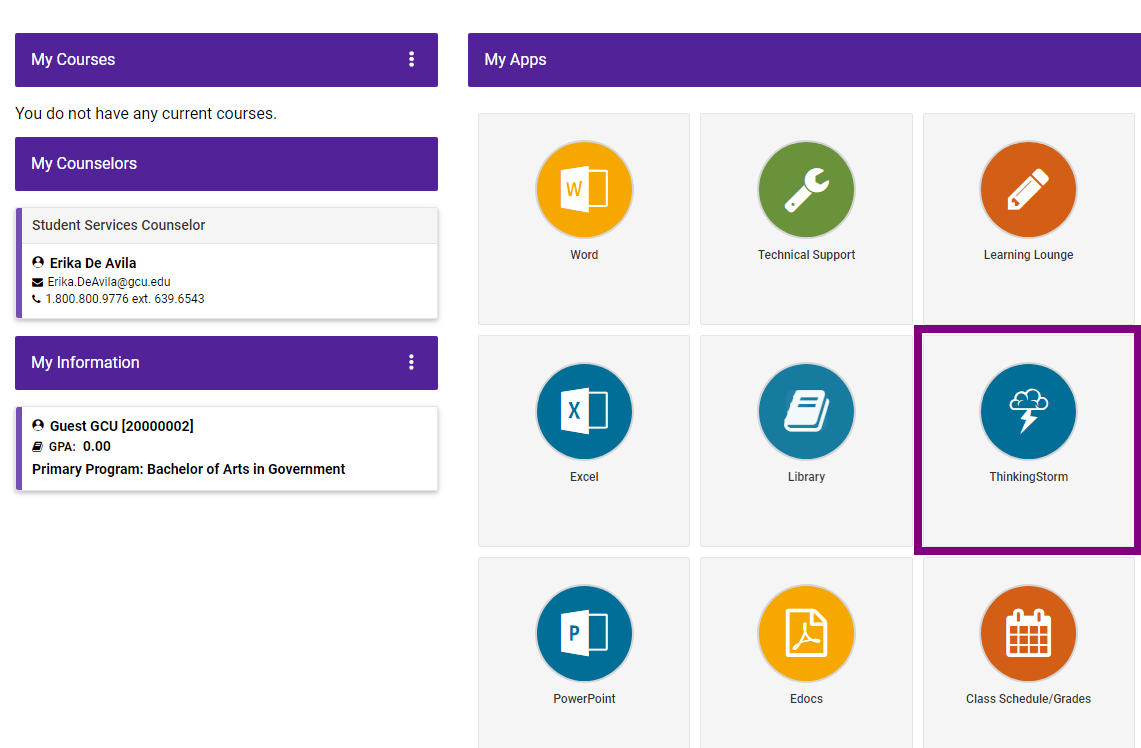 Selecting the ThinkingStorm app will redirect you to the ThinkingStorm site. This page breaks down the services they provide.
NOTE If you receive an error that reads "There was a problem logging into ThinkingStorm. Please try again or go to support.gcu.edu for assistance" when selecting the app, it means that you have to reset your password within ThinkingStorm, which is blocking your portal access. This issue can be resolved by contacting ThinkingStorm support at 877-889-5996.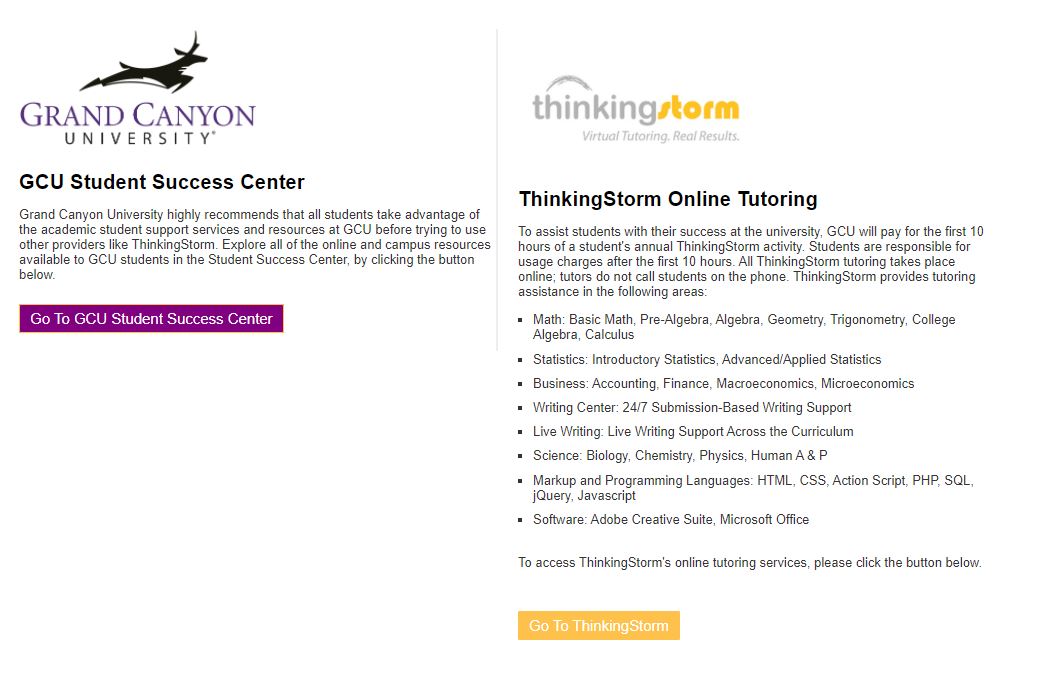 Select Go To ThinkingStorm to access their site and services.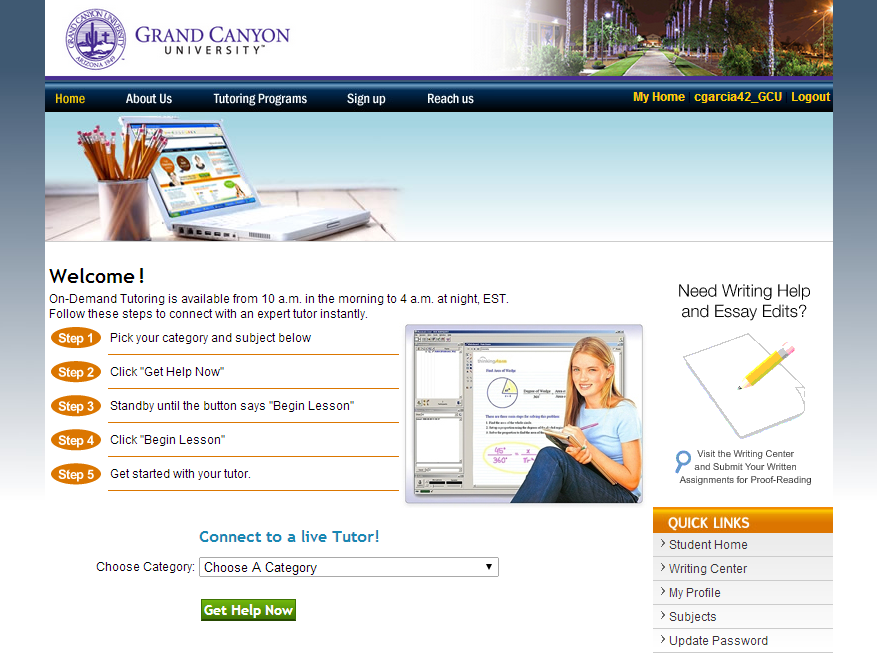 Subject Areas
ThinkingStorm provides tutoring assistance in the following areas:
Math —Basic Math, Pre-Algebra, Algebra, Geometry, Trigonometry, Calculus, and Statistics
Science—Biology, General Chemistry, Physics, and Introductory Human A&P
Business and Accounting—Finance, Managerial, Microeconomics, and Macroeconomics
Software and Adobe Suite—Photoshop, Illustrator, InDesign, and Dreamweaver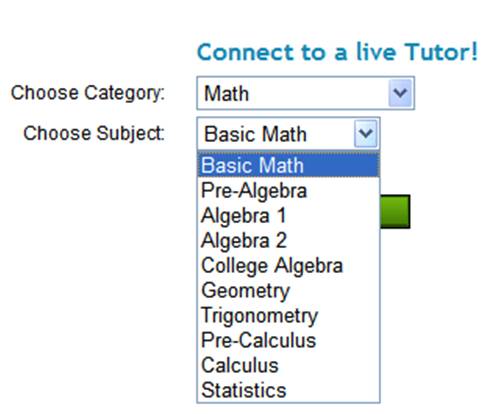 Writing Center
Additionally, ThinkingStorm offers tutoring support in writing. Live tutors are not available for writing, but you can submit your written paper for a tutor to review it. Editors provide feedback on completed papers within 48 hours. Comments are given on thesis strength, supporting evidence, organization, and grammar. Writing tutors do not correct papers. Instead, they use Socratic Questioning and provide comments to guide you in your writing development. You will be charged according to the below page amounts related to the paper length.
| | |
| --- | --- |
| 1-2 pages | 15 minutes |
| 3-7 pages | 30 minutes |
| 8-12 pages | 45 minutes |
| 13-17 pages | 60 minutes |
| 18-22 pages | 75 minutes |
| 23-27 pages | 90 minutes |
| 28+ pages | 15 minutes per 5 pages |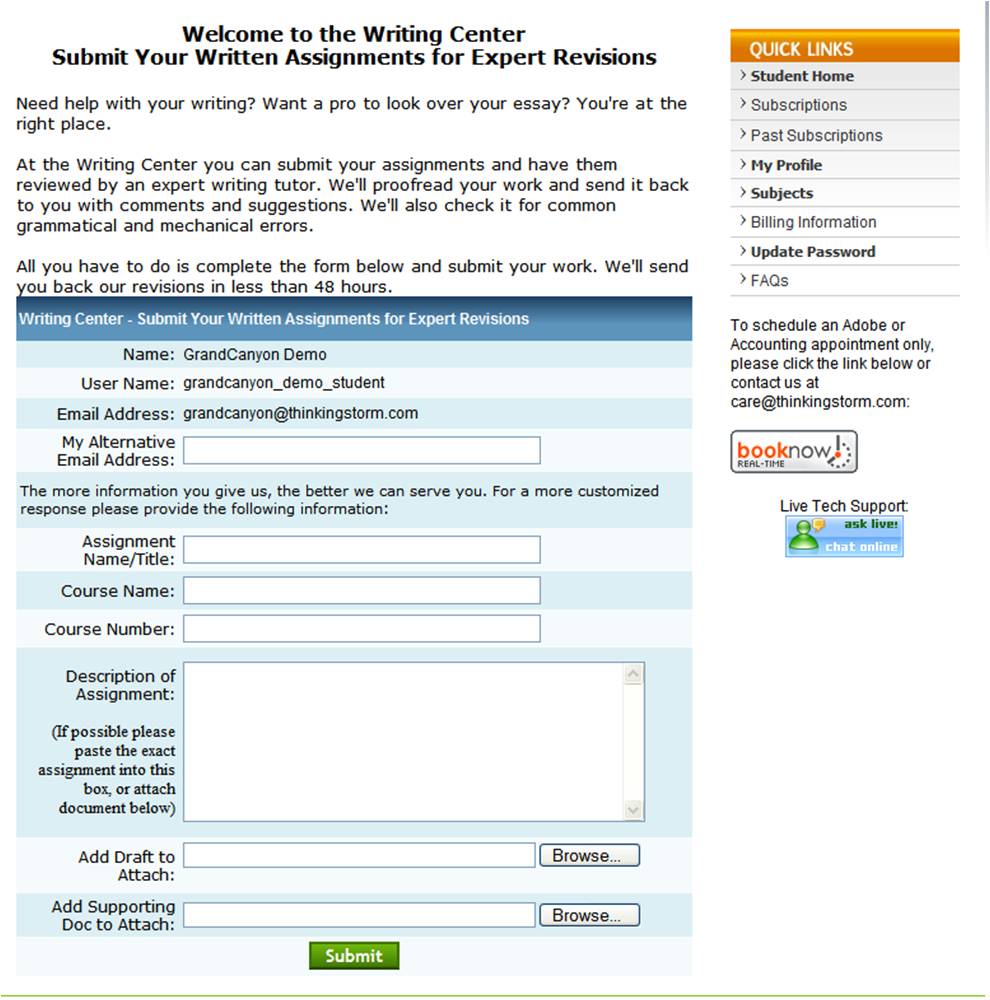 Conclusion
Please feel free to contact Institutional Effectiveness (IE) for questions related to using ThinkingStorm.
It is important to understand that Institutional Effectiveness and ThinkingStorm are two separate entities. To learn more about Institutional Effectiveness and how to book an appointment with a live tutor at GCU, please visit their website by clicking here, or call them directly at 602-639-8901.