GCU recommends that you do all communication with your instructor through the class. However, if you are unable to communicate through the class, you may need to reach out through email. If you need find the email for your instructor, we recommend locating the email from the class instead of the address book in your email as some instructors will not appear in the address book.
NOTE Instructors are required to respond to emails within 24 - 48 hours. If your instructor has not responded to your email in a timely manner, please contact your Student Services Counselor.
You can locate your instructors contact information in the Course Syllabus. To access the Syllabus, click the Syllabus button on the Main side menu.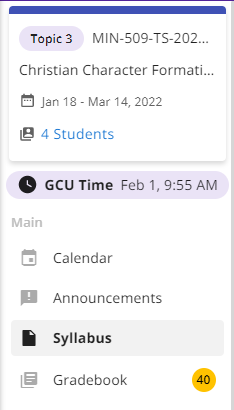 Once you are on the Syllabus page, the instructor's information should be below the course description.

In addition to providing your instructors contact information, Halo | Learn has a Messages View for communicating with your instructor. For more information on the Halo | Learn Messages View, take a look at (Halo | Learn) Classroom Communication.