The Student Checklist is used by campus students to keep track of items they need to complete. The checklist can be accessed by logging into the GCU Portal and locating the Student Checklist App.

Once inside the app, tasks will be separated into three categories (must complete, in progress, and finished).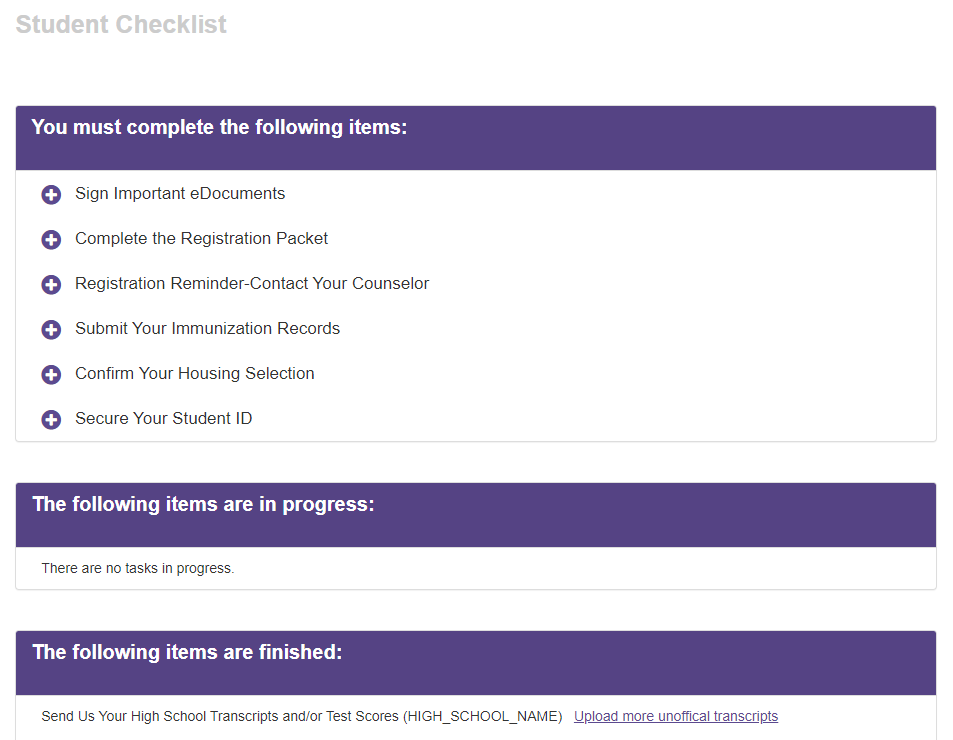 The checklist items will be different for each student depending on their major and living situation. Common items include (but are not limited to):
Sign Important eDocuments
Complete the Registration Packet
Registration Reminder-Contact Your Counselor
Register for Orientation
Submit Your Immunization Records
Confirm Your Housing Selection
Secure Your Student ID
Send us Your High School Transcripts and/or Test Scores
Pay Your Non-Refundable Registration Deposit
Take a Math Placement Exam
Take an English Placement Exam
Confirm Your Meal Plan Selection
Complete Your Entrance Interview
Complete Your Master Promissory Note
Select Payment Option
Secure Your Parking Permit
Submit Your Final Transcripts
NOTE
If you have any questions or are running into issues with securing your parking permit, please contact Campus Operations at 602.639.7739 or you can email Campus Operations at: Campus.Parking@gcu.edu.
Other Important Information
If you encounter any errors while attempting to complete an item, we recommend trying basic troubleshooting first.
There may be more or less items to complete depending on your circumstances. If you have questions about which items need to be completed, we recommend reaching out to your counselor.
Some items require you to upload files. If you have difficulties uploading a specific file, verify that it is an acceptable file type. The following file types are accepted:
.doc, .docx, .odt, .gdoc, .cwk, .pdf, .jpeg, .jpg, .bmp, .png, .tiff, .raw, .html.