To access your balance and make payments, you must log into the GCU Portal. For more information on how to log into the GCU Portal, see Logging into the GCU Portal.
Once you are on the GCU Portal home page, you should see an app labeled Finance Hub under the My Apps dashboard.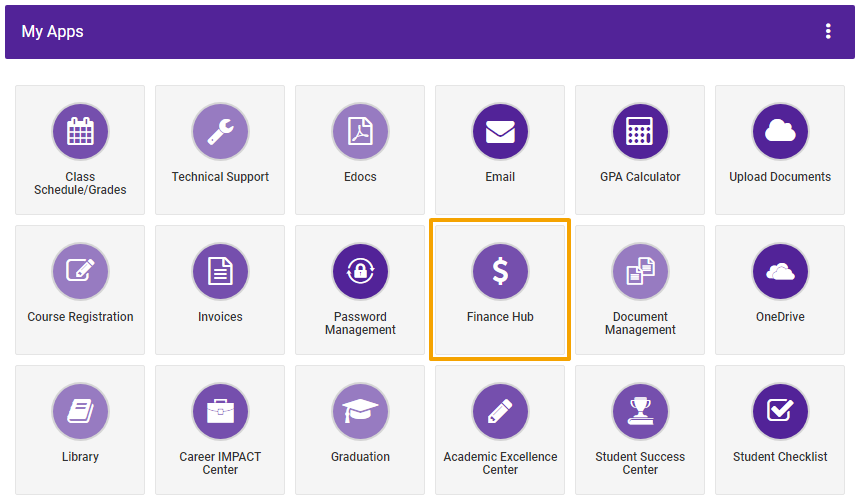 If you have not previously set up a payment method (i.e. credit card), you can do so by clicking the Add a new payment method button. You may receive an error if you try to make a payment without setting up a payment method (but it can be easily resolved by adding one!).

You will be directed to a website called Payeezy, which is GCU's third party credit card vendor. You can enter your payment information here, and then click Submit. Once the submission has been completed, you will be re-directed back to the payment page.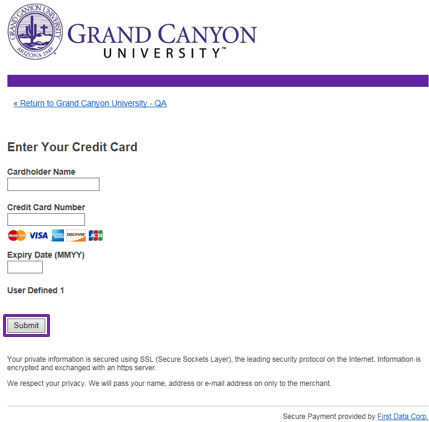 NOTE You can add more than one payment method to a single student account.
If you see a screen after clicking the submit button that says, "Please stand by while your payment is processed", do not worry; this is only adding the card as a payment method.
If you would like to remove or edit one of the payment methods that you previously added, you can do so by either clicking the blue Edit or red Delete options to the right of your payment method.

To make a payment, click the Make Payment button at the top of the screen.
If you are a dual enrollment student, you will see two options, Dual/Concurrent Enrollment Payments and Bachelor's Degree Payments. Select Dual/Concurrent Enrollment Payments, then Make a Payment. For step by step instructions detailing the dual enrollment payment process, check out this video: Student Portal Dual Enrollment Payment.

A pop up window will appear asking you to accept the payment agreement. Read the agreement and check the "I accept the above payment agreement" box, then click Continue.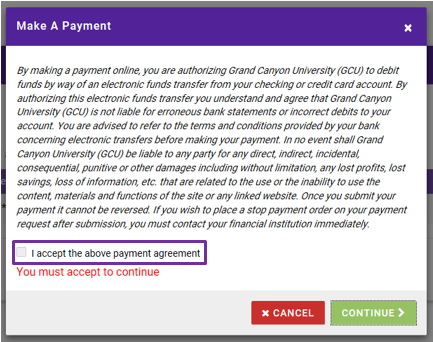 NOTE You may receive an error message that reads: "Error: invalid transaction type". If you do receive this error message, make sure that your payment plan has been selected and filled out.
You will be prompted to select a payment method and enter a payment amount. Your payment methods will be available in the drop-down menu under the Make a Payment From header. If you would like to use a different credit card than one that is listed, click on Add a Payment Method.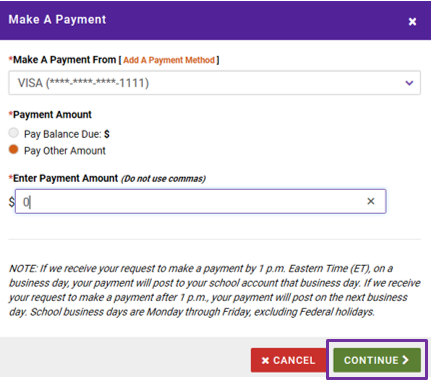 If you select Pay Balance Due, the full balance due will be listed below Enter Payment Amount. If you do not wish to pay the full balance, choose Pay Other Amount and enter the amount you would like to pay. Once you are done, click Continue.
NOTE If the balance is appearing with a negative sign (-), that means there are excess funds on the account and no payment is due. For more information, reach out to your Student Services Counselor (SSC).
The next page will ask you to verify the payment details. Review the information and confirm that it is correct. If it is not, click Cancel, and repeat the previous steps. If it is correct, click Confirm Payment.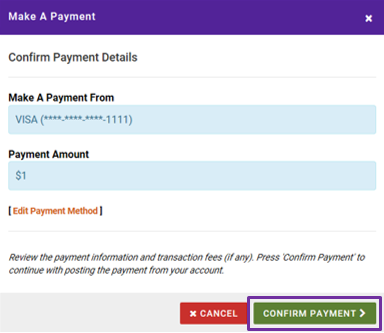 You will see a confirmation that the payment is complete. Click Complete to close the window and return to the portal payment page.
NOTE You will also receive a copy of your receipt via email.