While GCU Technical Support is here to assist you with any technical issues you may experience during your degree program, the best resource for research-related questions is research.gcu.edu. The website serves as a central hub for all information about research at GCU. If you have a question that isn't related to a technical issue, we recommend checking out research.gcu.edu first.
Before starting your IRB application, please ensure that you have completed the required CITI training.
Instructional Video
Starting Your IRB Application
The first step is logging into iRIS at https://gcuirb.imedris.net with your GCU credentials (GCU email and password). If you have trouble logging in or need to reset your GCU password, see the article titled Password Reset Process.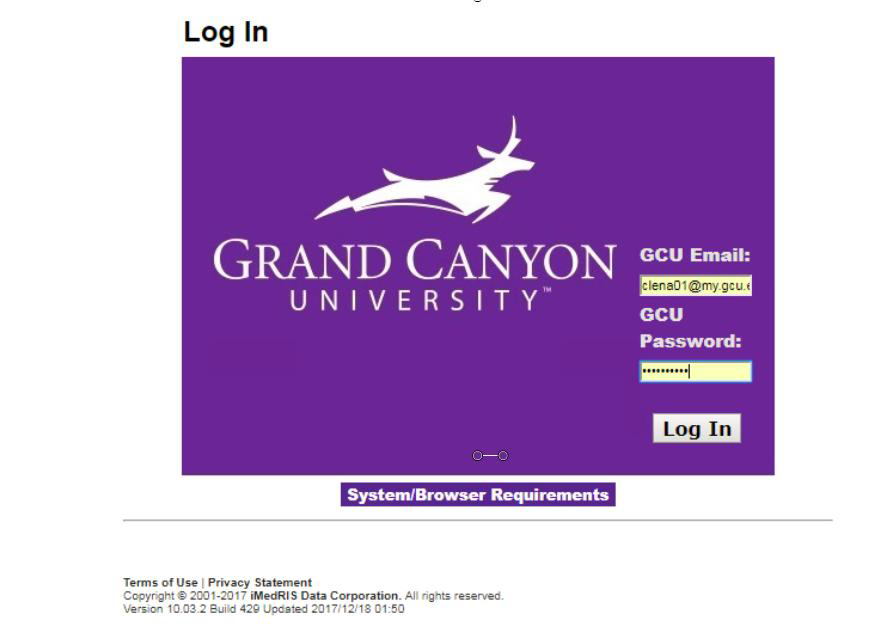 NOTE
When the username/password is entered incorrectly
it will not display an error message
. If you have entered your username/password and nothing happens when you click
Log In
, check to see that you have entered your GCU email and password correctly. If you are still having issues, please try
Resetting Your Password
.
To start your application in iRIS, hover over the Study Assistant and select Add a New Study from the menu.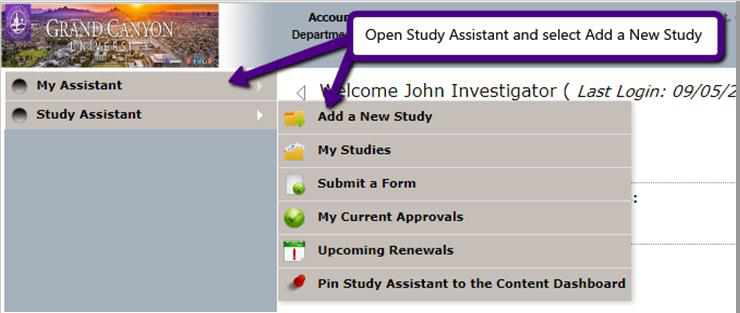 Once you click Add a New Study you will be taken directly to the study shell, where you will complete the first three sections of the application: General Information, Setup Department(s) Access, and Grant Key Personnel access to the study.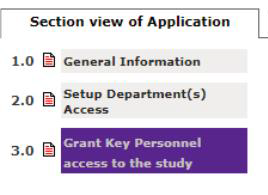 In the General Information section, enter the title of your study, a short title or keywords to reference your study in iRIS, and select the Study Classification. Click Save and Continue to Next Section to proceed through the application.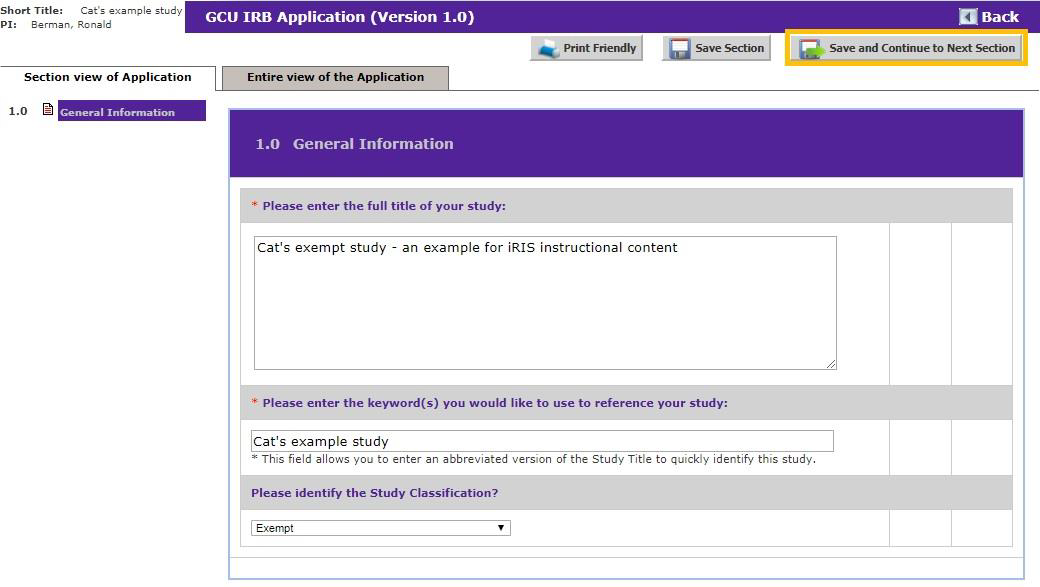 The default Department Name for GCU is the GCU-Department. Click Save and Continue to Next Section to proceed.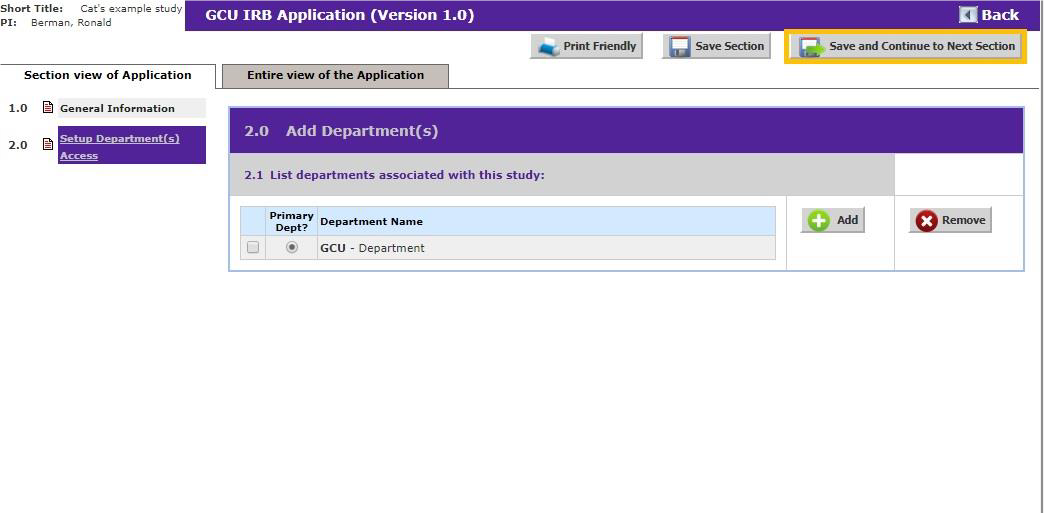 For section 3, you will add key study personnel as applicable:
Section 3.1
Add the Principal Investigator (this is you!)
Section 3.2
If you have a co-investigator performing the research with you on the study, add them in section 3.2 sub-section A. This is not your chair.
If you have a supervisor or chair involved in the management of your study, add them in section 3.2 sub-section B.
NOTE If you fail to add your supervisor or chair in this section, they will not receive your application for review.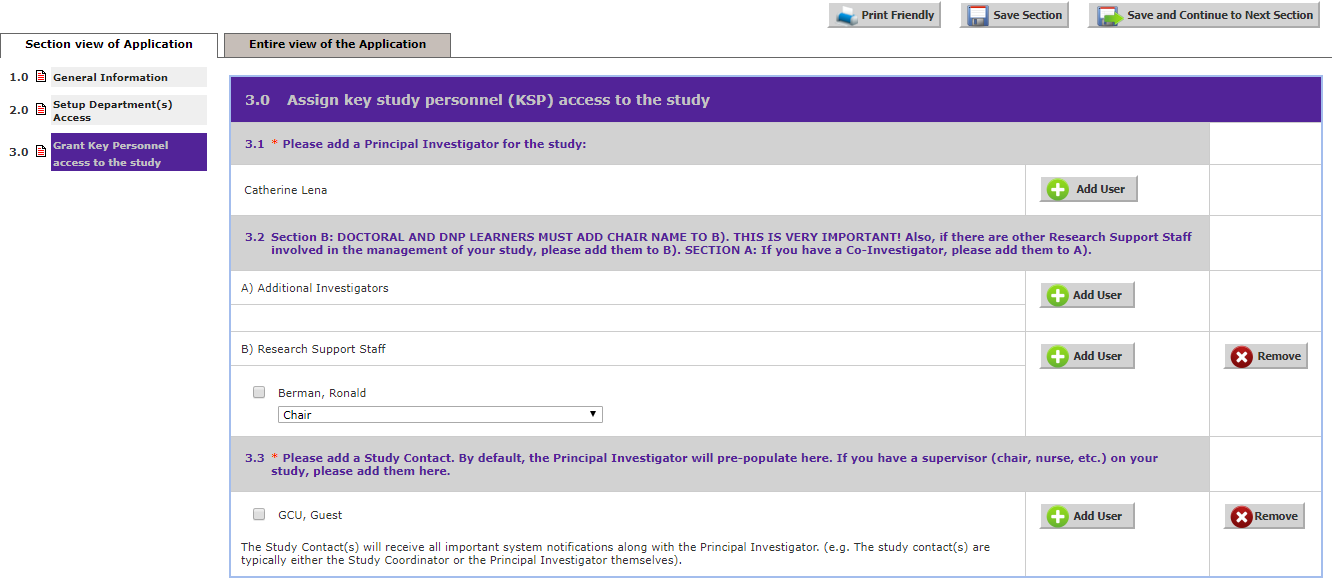 To add a user, click Add User.

You will be redirected to the Search User Directory. Type in the Last Name and First Name of the user you are looking for and click Find on the far right. By Department should be set to All Departments.
Once you have found the correct user, click the check mark under Select User to add them.

Repeat this process as needed. Once you are ready, click Save and Continue to Next Section to proceed.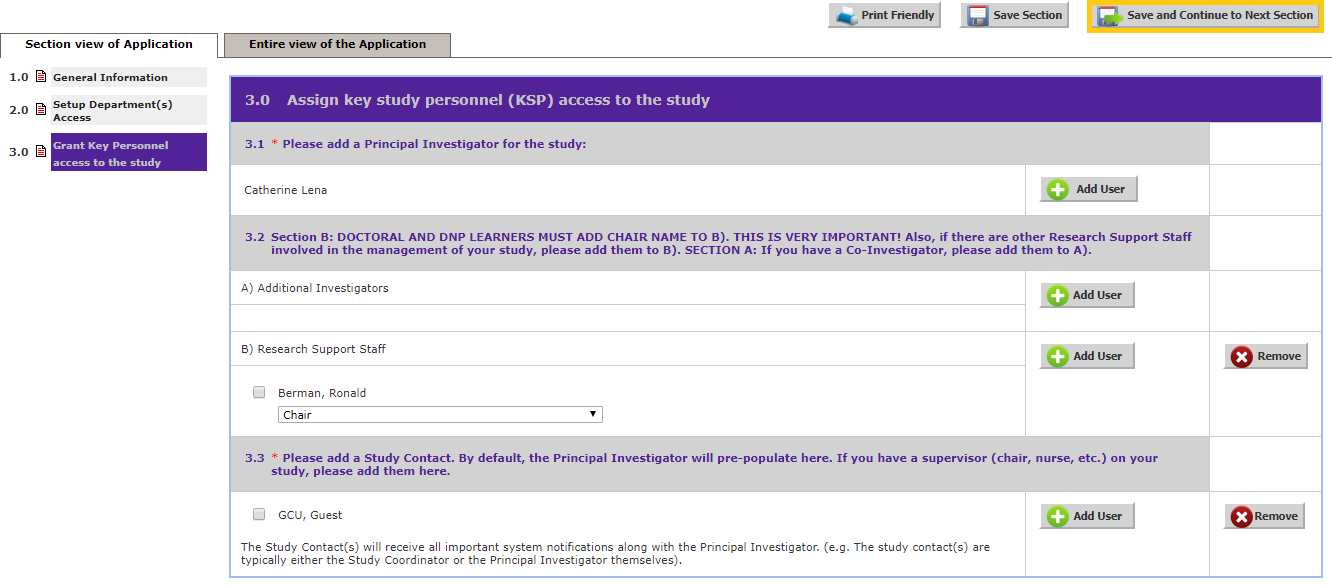 The next page may prompt you to enter information about CITI training. If you have already completed CITI training, simply check the acknowledgment box at the bottom of this screen. If you have not completed CITI Training, please do so. You will need to complete this before you are able to submit your application. See CITI Training for more information.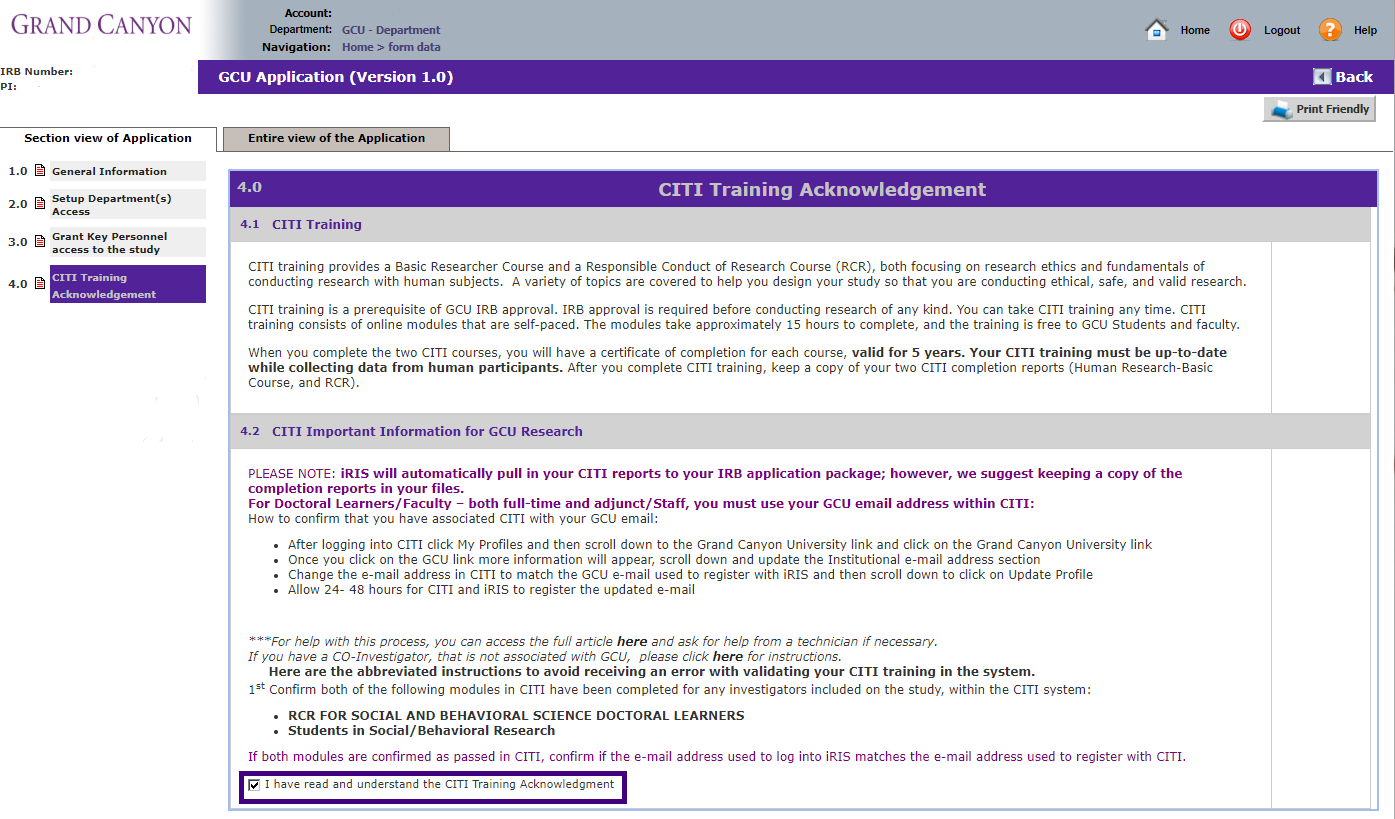 Fill out the fields on the Demographics page to proceed with the application. Then, click Save and Continue to Next Section.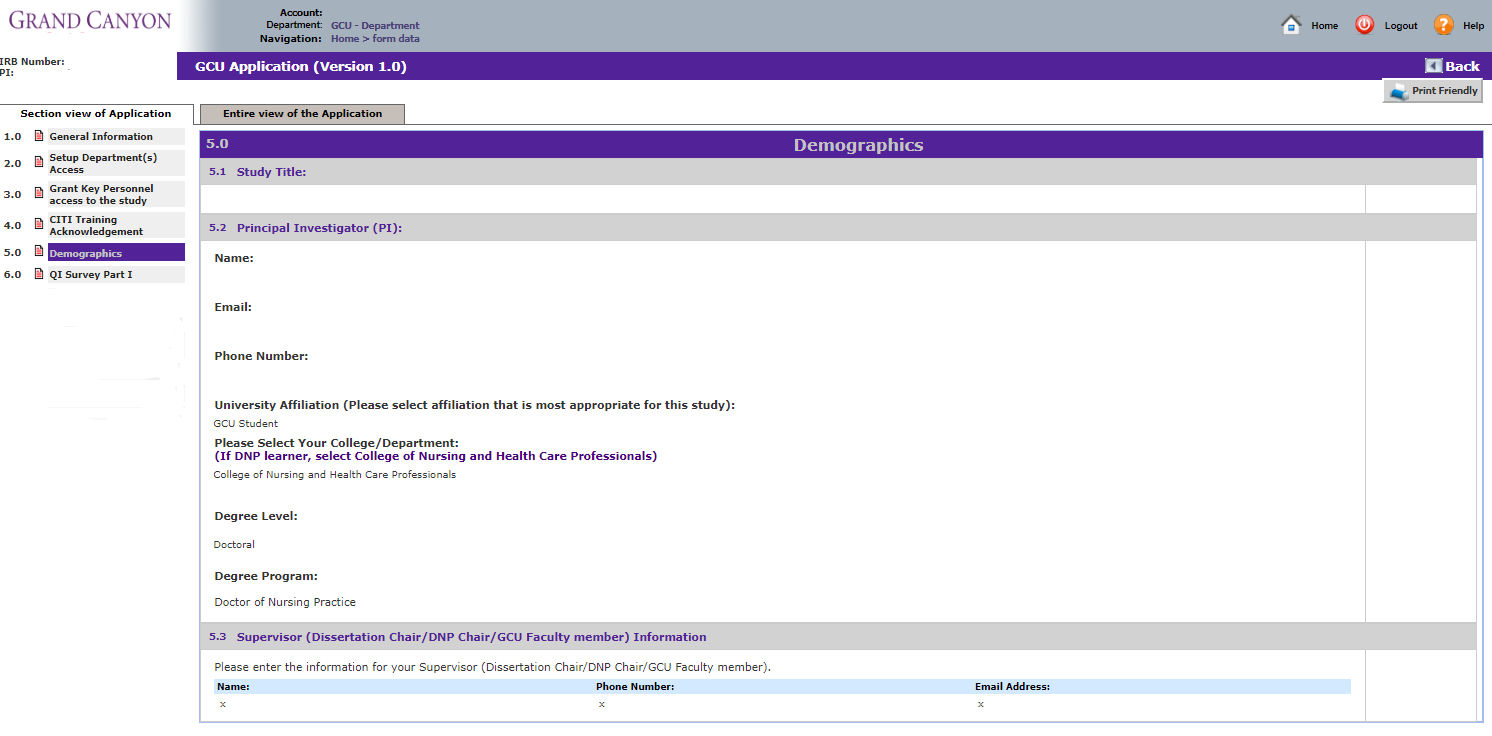 Depending on the answers provided on the demographics page, you may be prompted with a page called QI Survey. Any additional sections generated after completing the QI survey will vary depending on your study. If you have questions on how to fill out any of the remaining sections on the application, you may contact your chair for assistance (if you have one); otherwise, please send an email to irb@gcu.edu.
Once you have completed the first part of the application, view this article: (iRIS) How to Complete the Initial Submission Packet for the next steps.