Microsoft Office 365 ProPlus is now free for all active GCU students! This copy of Office includes products like Microsoft Word, PowerPoint, and Excel; essential programs for succeeding in your educational goals. Below is a video and a step-by-step walkthrough to help you locate and install the software.
Pre-Install Checklist
Check for previous versions of Office installed on your device. For help with this, please see Locating Programs and Application.
Determine the Operating System you will be installing Office on. See below for Office 365 Compatibility.
Be sure to have 15-30 minutes to complete the installation process.
Downloading Microsoft Office 365 for Mac
To begin, log into your Office 365 Portal. You can log in at portal.office.com with your GCU student email account; the password is the same one used for your Student Portal.
When signing in, make sure to add @my.gcu.edu to the username you use to access your Student Portal.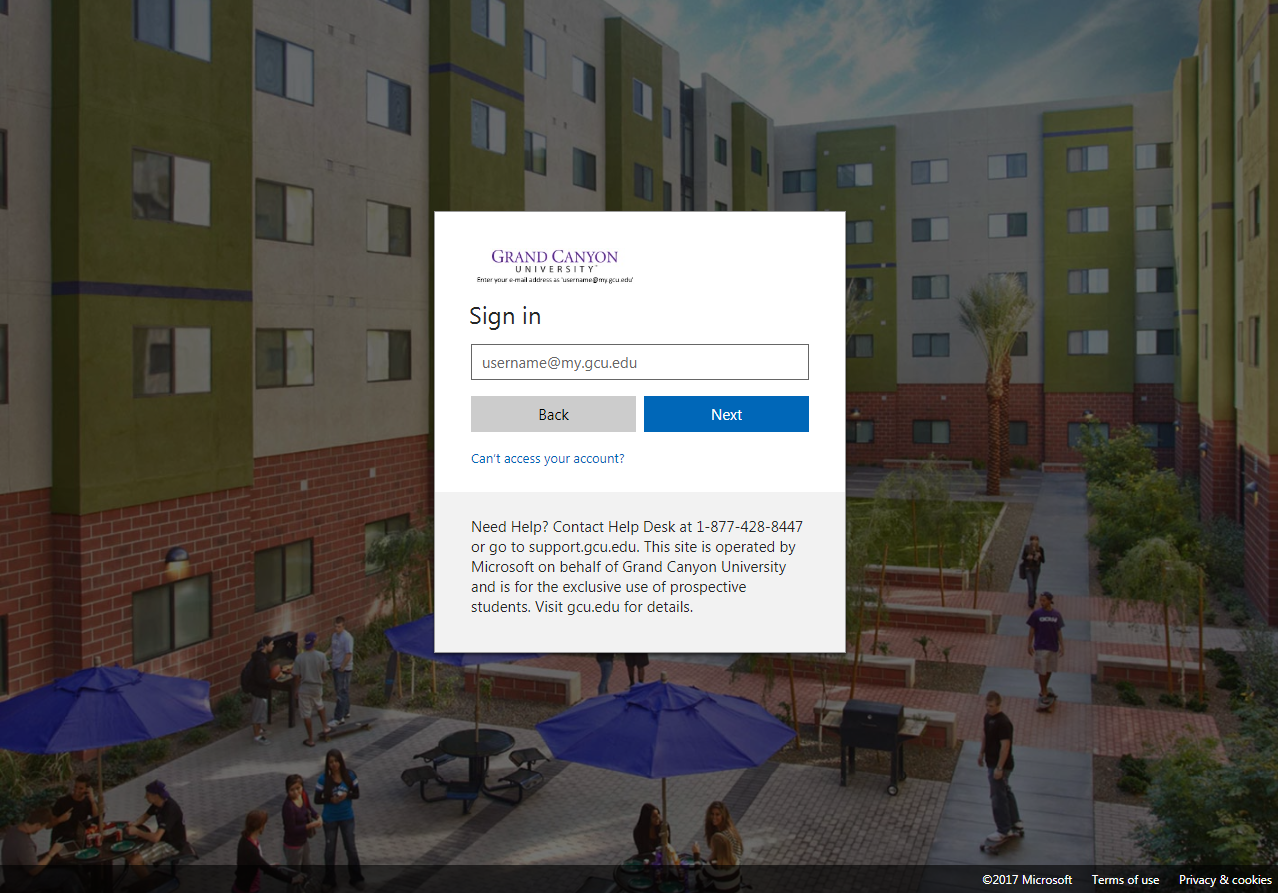 Once logged in, click the Install Office in the upper right-hand corner, and then select Office 365 apps from the drop-down menu.

NOTE If you have difficulty installing Office 365 through portal.office.com, you can access the software installation page directly at portal.office.com/OLS/MySoftware.aspx. This software page can also be reached by accessing your GCU email through the Student Portal. After logging into your email, click the sprocket in the upper right-hand corner, select Office 365 in the Your app settings section, and finally click Software on the settings page. To begin the installation, click Install near the bottom.
Installing Office 365 for Mac
Once you have downloaded the file, you will need to locate the install file in your Downloads folder and open it.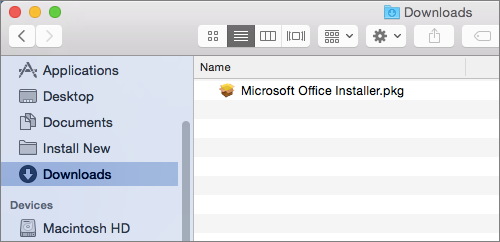 There are a few steps before the installation begins; select Continue.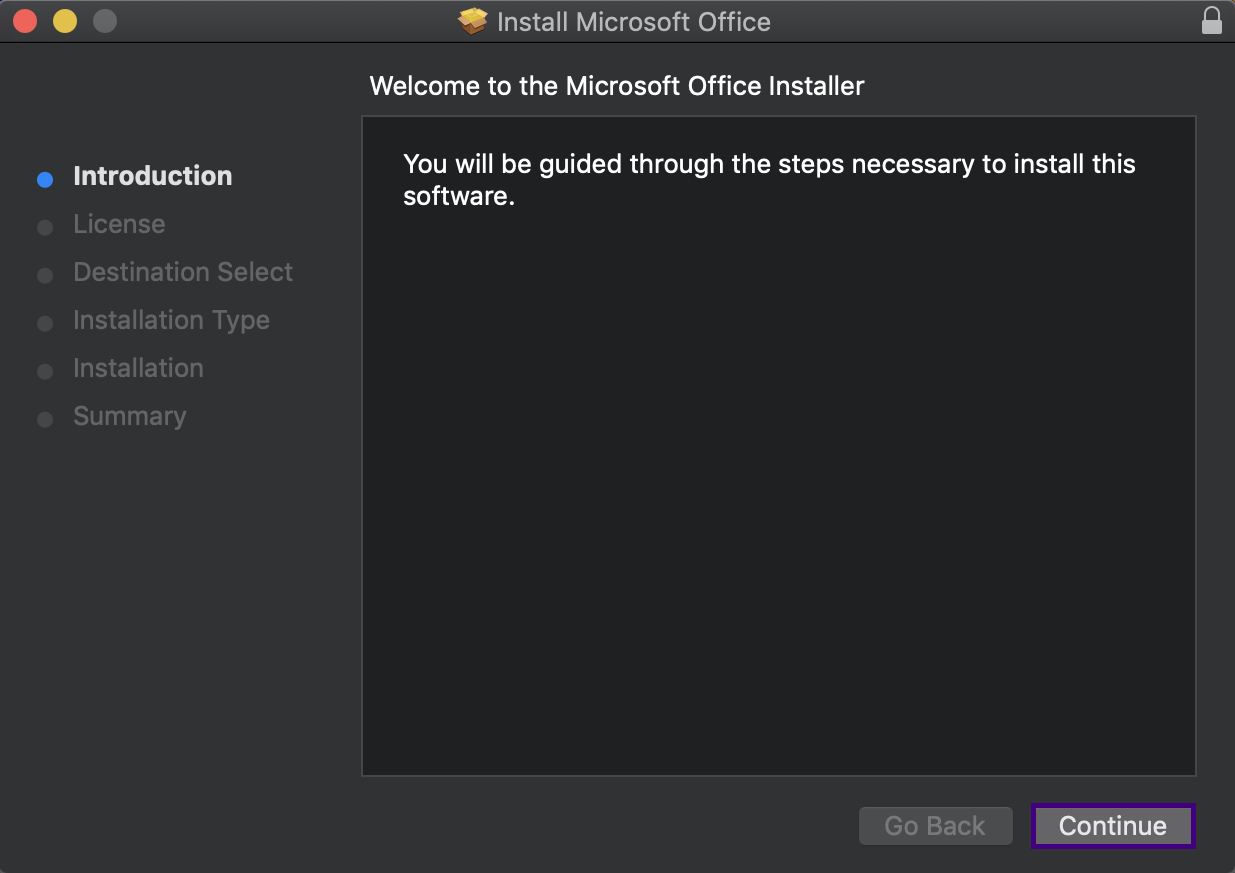 On the Licensing dialog-box, you will see a notification asking you to agree to the conditions presented. Select Agree to continue.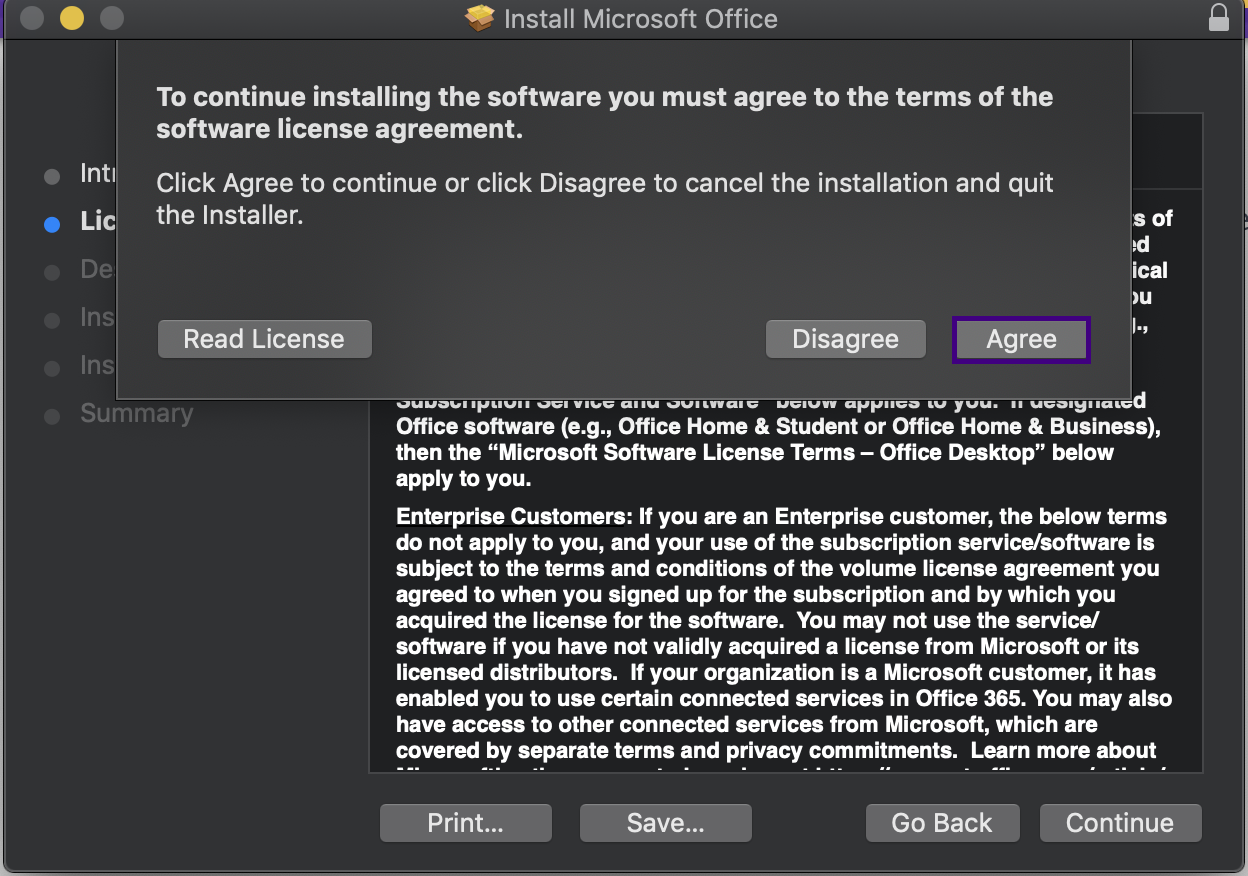 After you agree, you will confirm the location for the software before installing. Select Install to begin installing.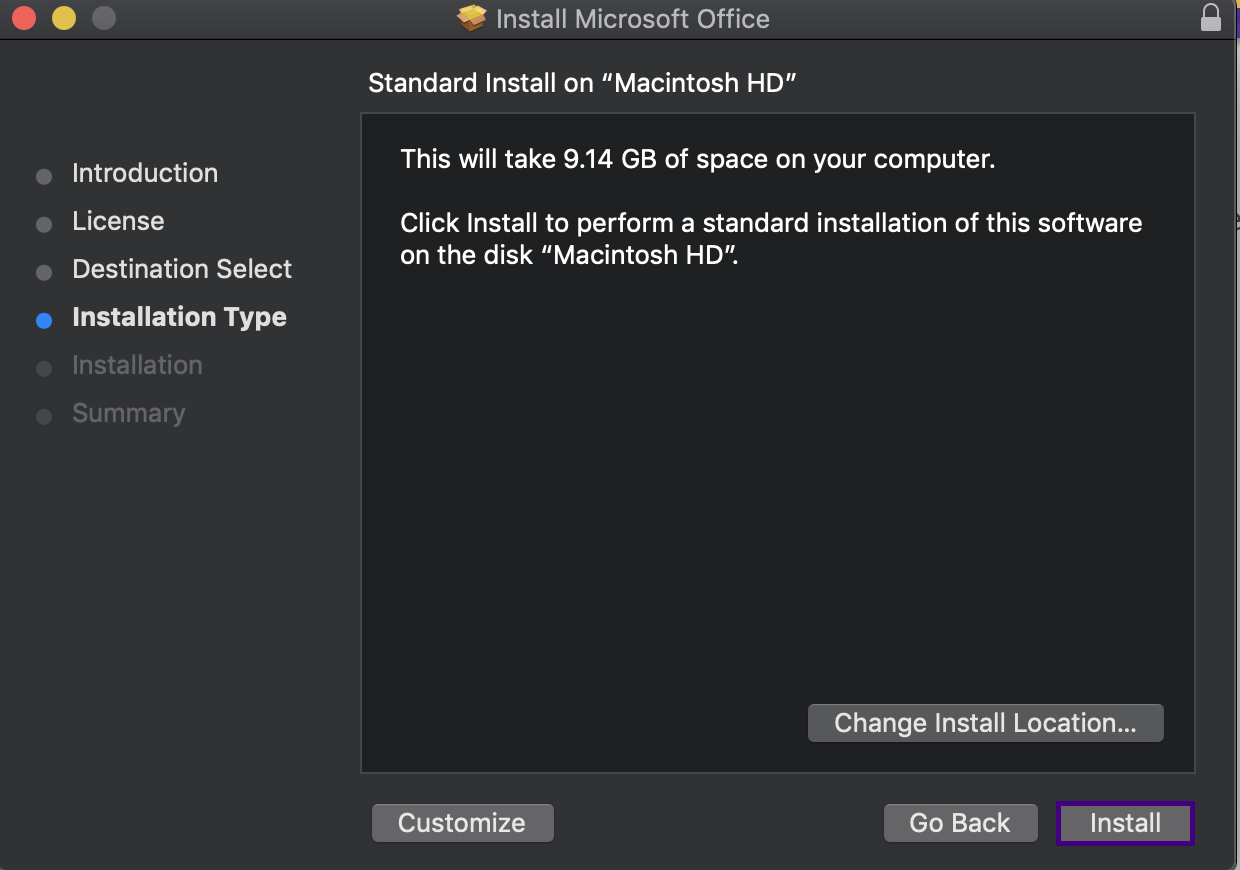 Please note: You will need administrator privileges on your computer in order to install Office 365. Your administrator information is the username and password you use to unlock your computer.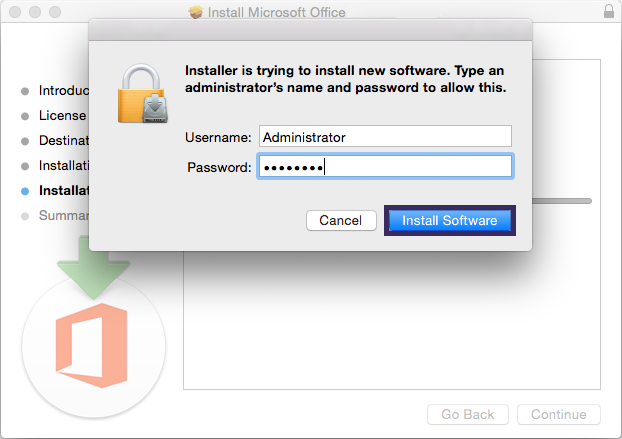 After entering your administrator username and password, the installation will begin writing the files.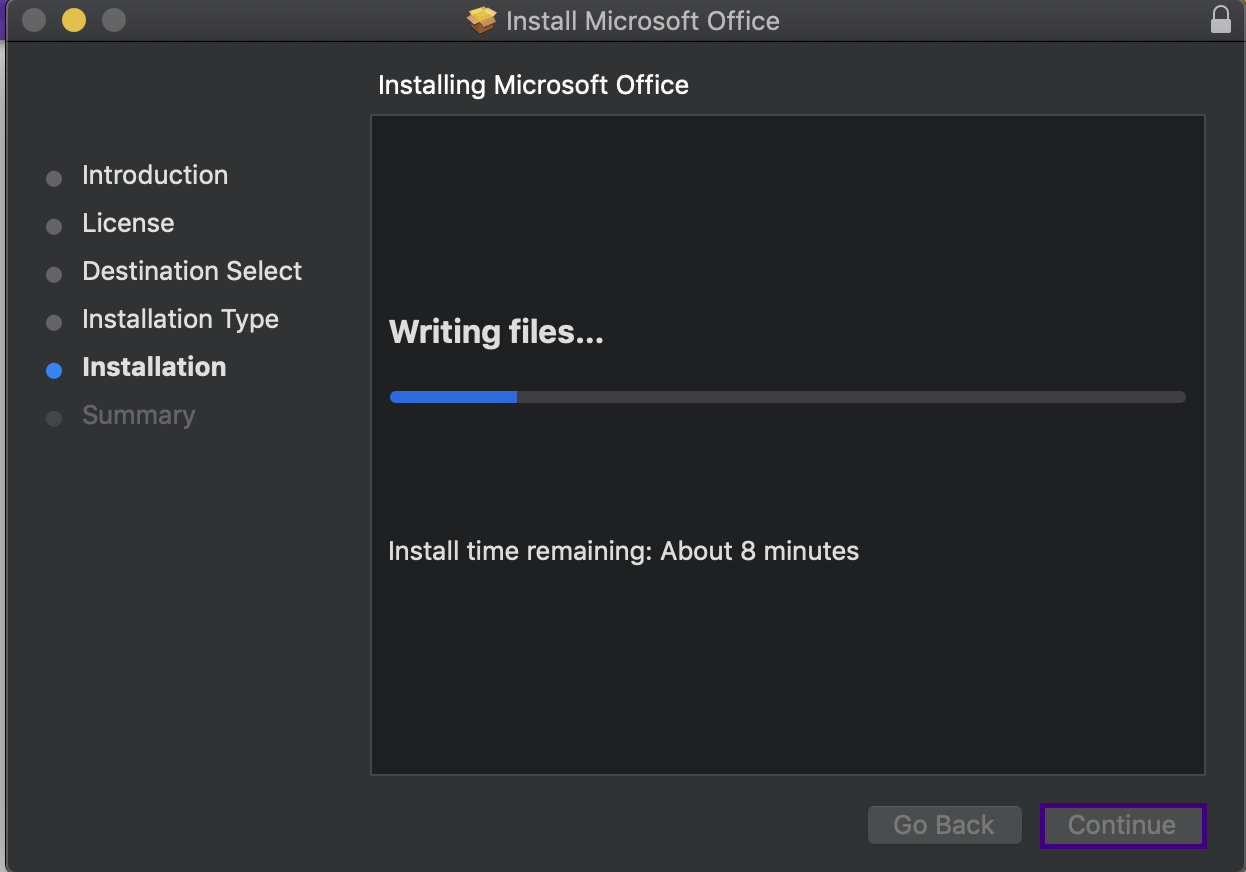 NOTE
While Skype for Business is one of the 7 programs included in the download for Office365 ProPlus, GCU does not have the license for this product. Therefore, you will not be able to log into the program using your GCU credentials. If you would like to utilize Skype, we recommend downloading it for free through Skype.com or through your applicable app store.
When the installation is complete, you will receive a message stating that "The installation was successful." Select Close to complete the process.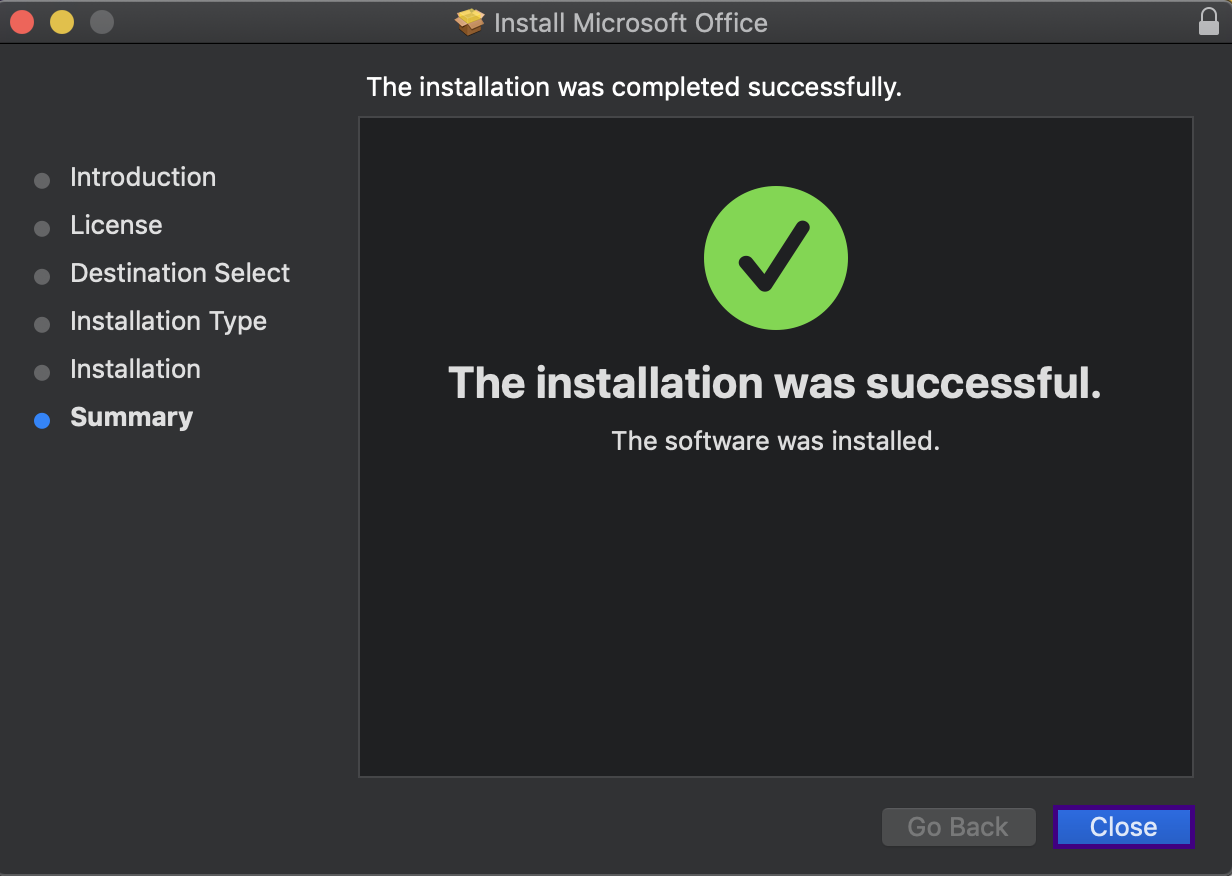 Upon accessing Office 365 for the first time, you will receive a message about what's new. Click Get Started.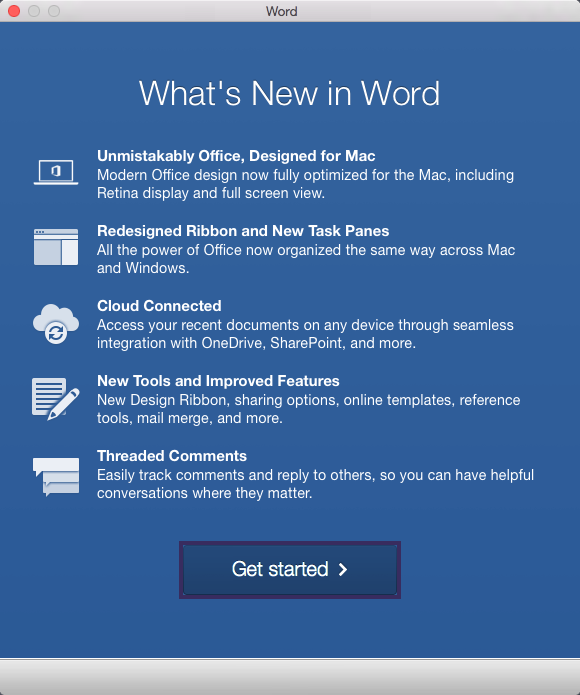 Before you begin, you will need to click Sign In to activate Office.
Here, you will enter your student email address, which is your username followed by @my.gcu.edu. Click Next.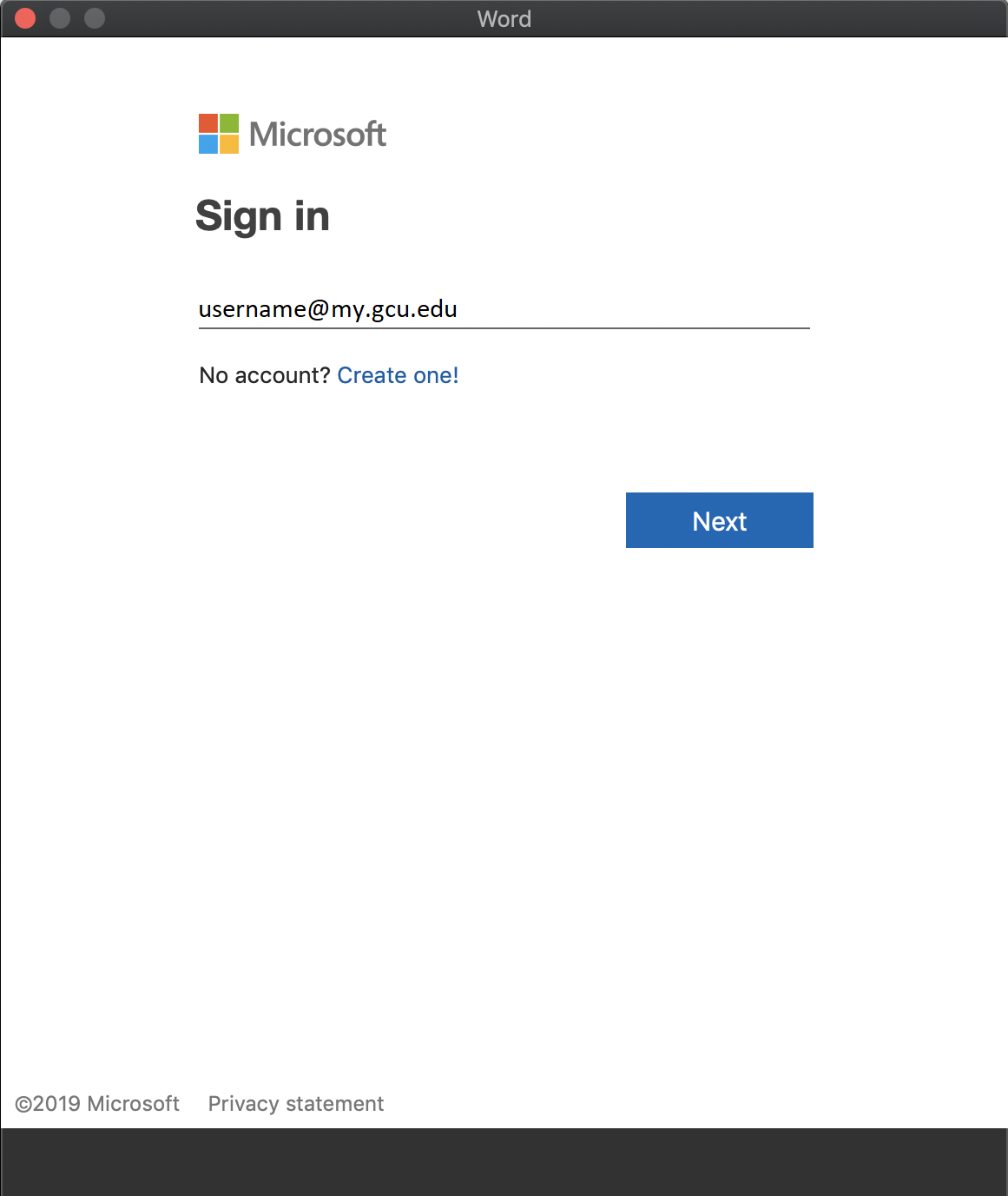 Select the option to sign in with the account provided by your work, school, or university to continue.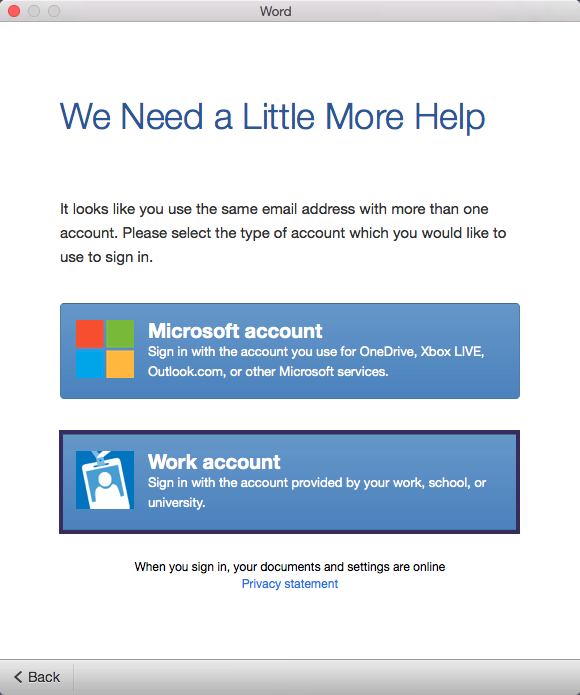 Sign in again with your username followed by @my.gcu.edu and enter your GCU password to complete your sign in.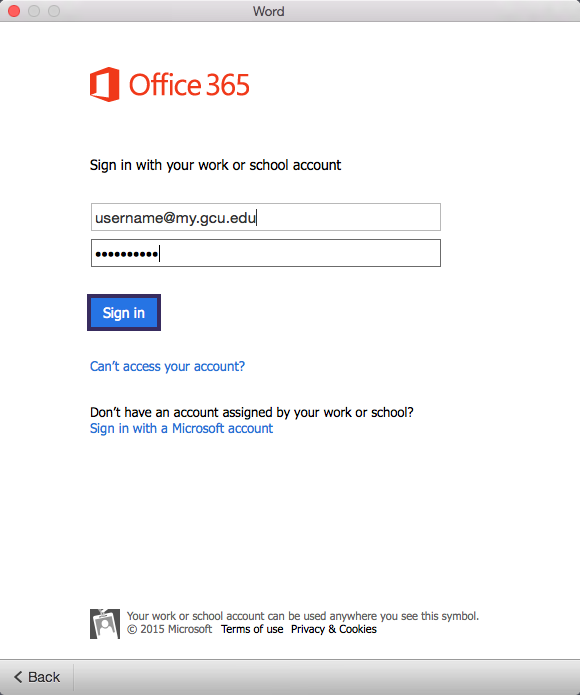 Upon successful login, you can choose a theme to customize how you want your Office 365 to look. Select Continue to begin working in Office 365!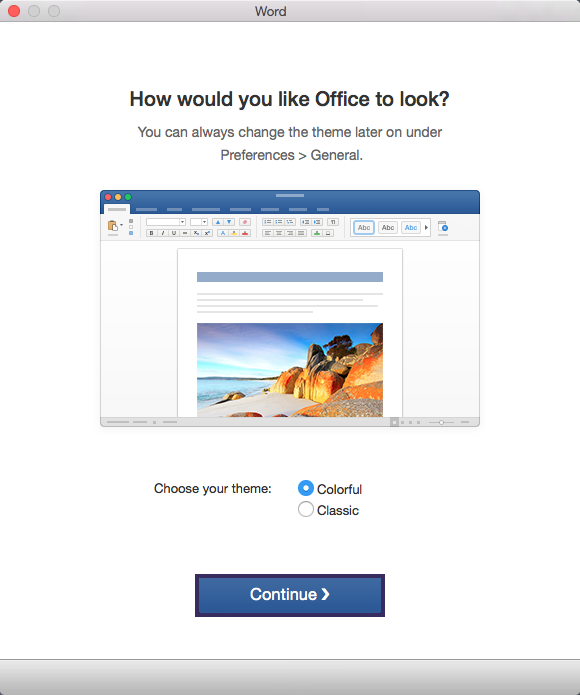 NOTE
You may be asked to turn on the Intelligent Services feature when installing Office. Intelligent Services are features help you improve your writing in Word and Outlook, analyze your data in Excel, and deliver dynamic presentations in PowerPoint. If you would like to allow this feature, select

Turn On

.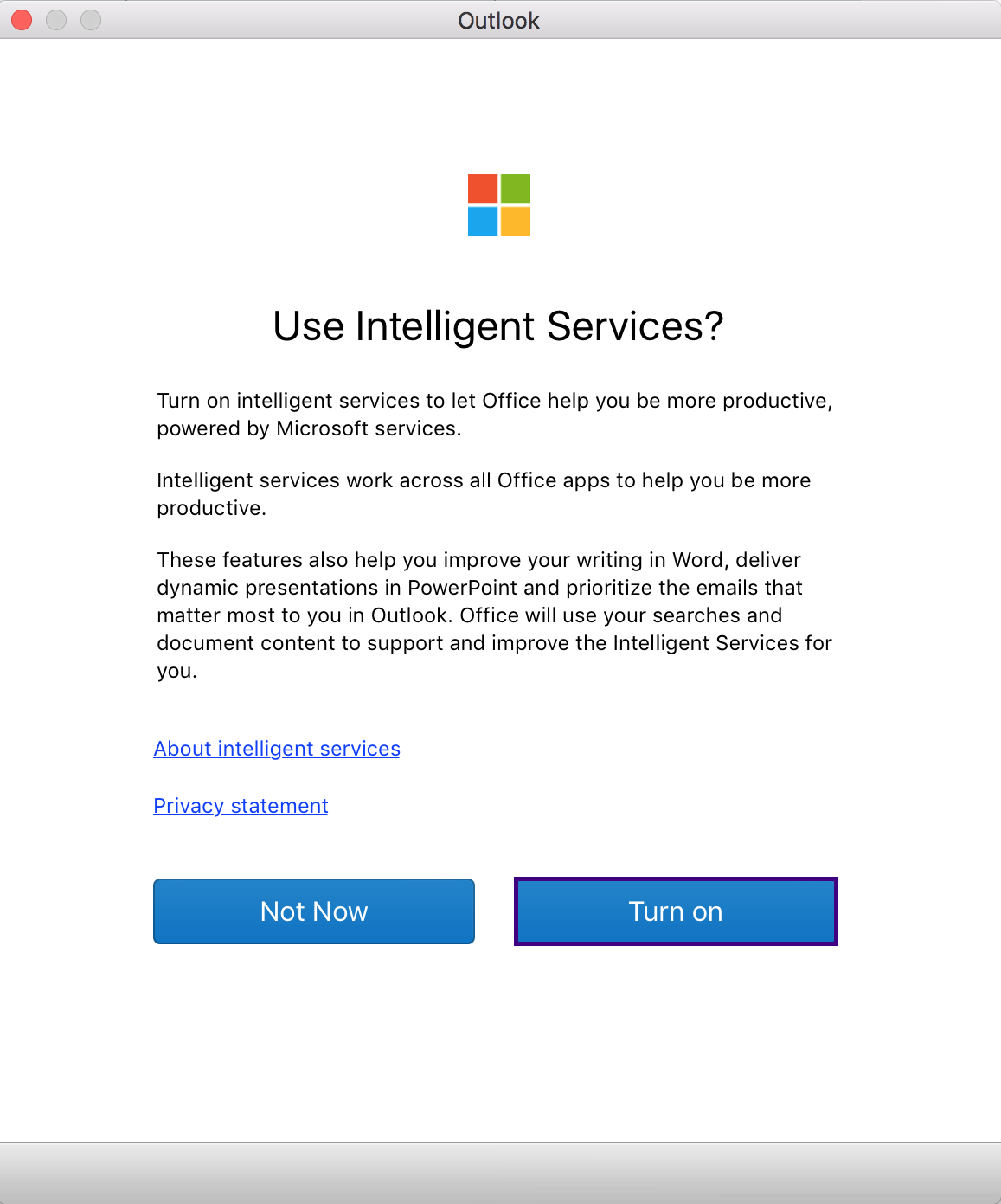 Unable to Edit Documents
If you receive the following error:
Your account (username@my.gcu.edu) does not allow editing on a Mac. To learn more, contact your admin about your Office plan.

Then you might have recently updated your computer's operating system and the Microsoft license does not recognize that.
To solve this issue, try signing out of your account and signing back in. Alternatively, you can try the following steps for Resetting Your Account Credentials:
Make sure you are connected to the internet.
With Word open, click Word from the menu bar.
Select Sign out from the drop-down menu.

Quit all open Office Apps.

Open the Keychain Access utility by typing in Keychain into the Spotlight search (in the upper right-hand corner) and selecting Keychain Access from the results.

Once Keychain Access is open, select the Microsoft Office Credentials in the list of credentials, select Edit from the menu bar at the top, and then click Delete. If there are multiple credentials, make sure to remove each one.

Once the old credentials have been removed, you can open Microsoft Word and sign in with your GCU username (including @my.gcu.edu) and password.
For some files downloaded from GCU websites, another Error you might encounter is as follows:

To start troubleshooting this, go to Word in the Menu bar and select Quit Word.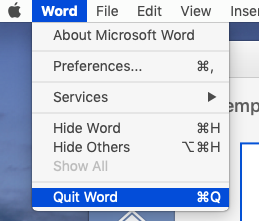 After closing word, locate the downloaded file on your MAC and open it from a Finder window. If the error persists, try the previous error's steps for resetting your account credentials.
Desktop Setup
If you already have Office 365 for Mac installed and select desktop setup, you will be directed to the following page: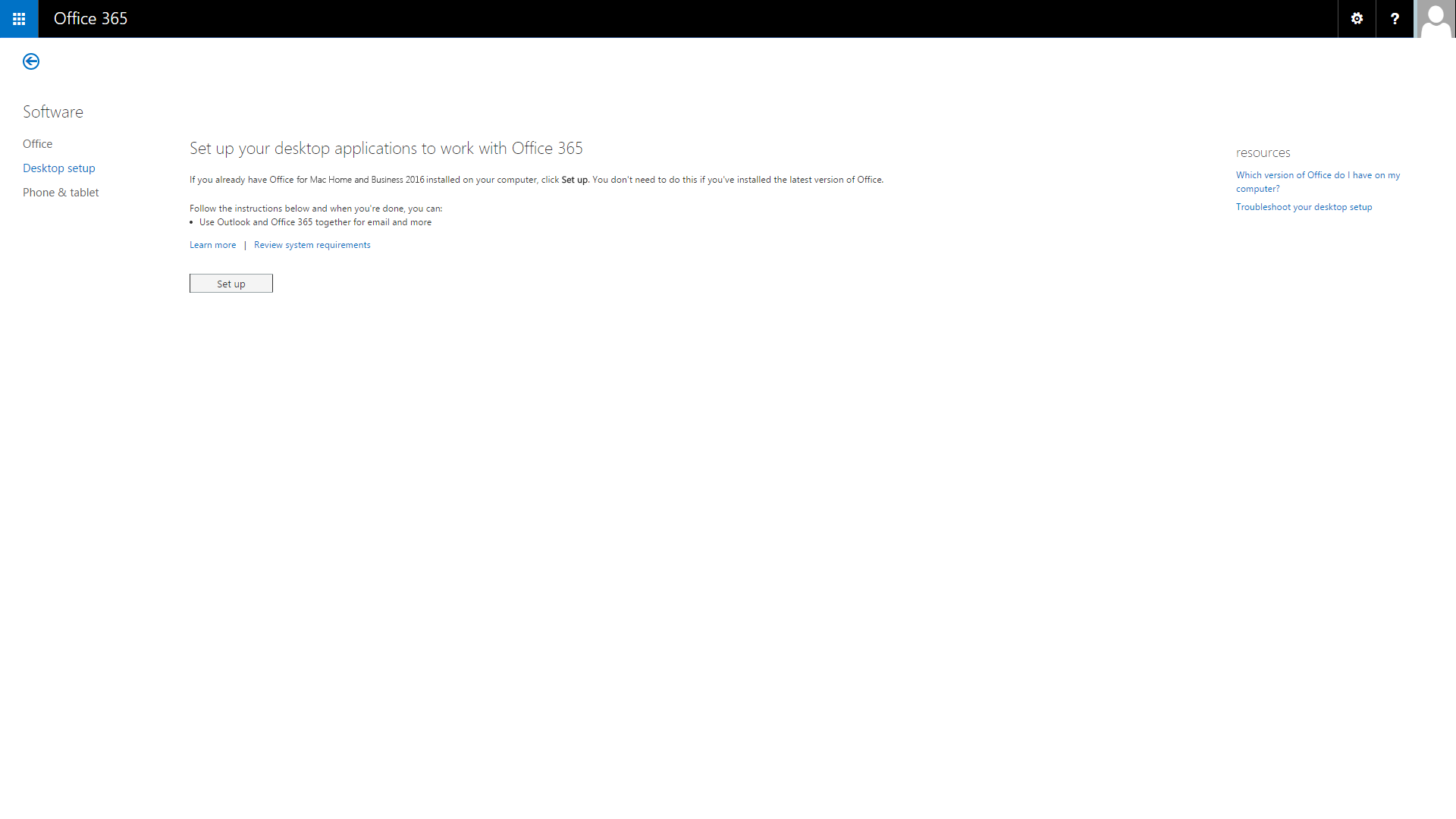 This section does not upgrade your office but installs an Office 365 portal to your computer for easier access to your GCU student email. Select Set up Office for Mac Home and Business to work with Office 365 for more information and directions.
Office 365 Compatibility
System requirements for Office 365 for Mac can be found here. Office for Mac is only supported on the three most recent versions of macOS. If you do not have OS X 10.12 or later, you will not be able to install Office 365. Fortunately, most Macs can be upgraded to OS X 10.12 or later for free; for more information, refer to Apple's support article to update the software on your Mac. If you are unable to install the Office programs due to compatibility or other issues, you can still use Microsoft Office in your web browser using OneDrive. For more information about accessing OneDrive, see Accessing OneDrive with your GCU Email Account.