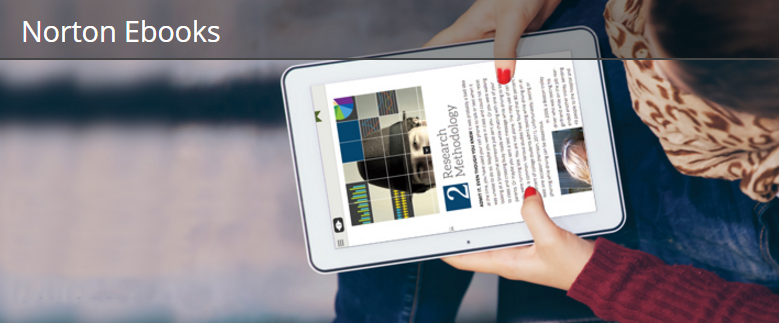 W.W. Norton offers interactive eBook features, resources to instructors, and computer, tablet, and smartphone functionality. For a list of commonly asked questions and the ability to submit a support ticket, please see the Instructor Resources Help Notes at http://wwnorton.knowledgeowl.com/help/ebook-instructors.
Setting Up the eBook
Before you can access the eBook content, you will need to email the W.W. Norton representative with your GCU-issued email address and course information to be authorized as an instructor.

W.W. Norton Representative: Mary Dudley mdudley@wwnorton.com

You will receive a confirmation email, and be provided with a link to sign-in. The link will start with https://digital.wwnorton.com/ and end with a shortened title of the textbook.

Click on the eBook tile to access the eBook.
Requesting Instructor Resources
W.W. Norton offers various resources, including PowerPoints, test banks, and interactive instructor guides to aid in teaching. Before these features are available, you must request access.
Navigate to the unique eBook link starting with https://digital.wwnorton.com/ and sign-in.

Click on the Instructor Resources

NOTE These features are not available for PSY-610 and PSY-611.

Scroll down to find a resource, and click on Access Resource.

On the next page, click on Request Access.

Fill out the information requested using a GCU-issued email address.

In the Adoption status, select I am an instructor who has already adopted.

When the request has been verified by W.W. Norton, a confirmation email will be sent.

NOTE You should not upload Coursepacks to their Halo Learn classroom, as they are not optimized for Halo Learn.

Creating a Student Set (Optional)

You can create a Student Set to share eBook notes and view student activity reports.

Click on the gear icon in the upper right hand corner and select Manage Student Sets.

Click Create New Student Set.

To create a new Student Set, select Create a new Student Set from scratch, then click Next.

Enter a title, choose Arizona as the location, and enter Grand Canyon University as the school.

Share the student set ID number with the class.
Students will enter the student set ID number when prompted during registration.
For more information on student account creation and registration, please see W.W. Norton eBooks.