To access the Housing Application Portal, you can click the Housing Portal app from your GCU Portal.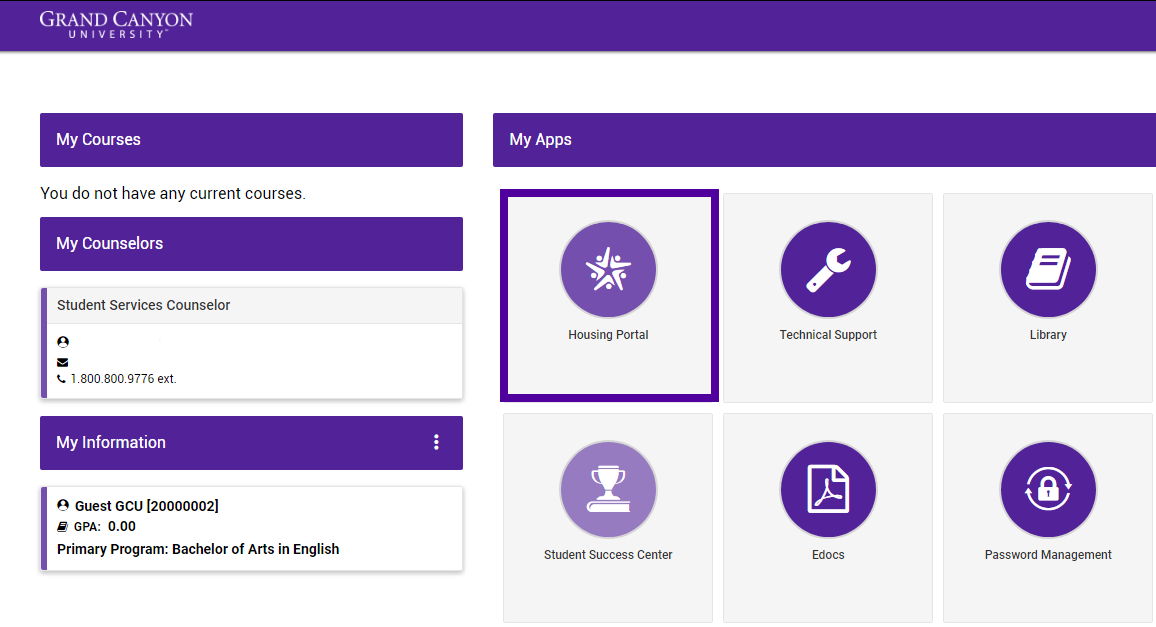 You will then be directed to access the Legacy Portal. (The housing website does not currently work in the GCU Portal.)
Click Login on the Legacy Portal, and then select Student Portal Homepage. 
The login information is your GCU username and password (@my.gcu.edu is not required). 
After logging into the Legacy Portal, click on the Housing Portal section located on the left side of the page under My Housing. This will provide a second link in the center of the page. Click Housing Portal in the center of the page to proceed. You may need to allow pop-ups for your browser.
Logging into the Housing Portal
Once the new tab opens, you will be automatically logged into the Housing Portal. If you do not see the new tab and remain on the Student Portal page, you may need to adjust the browser's pop-up blocker settings.
If you are logged out of the Housing Portal, you will be taken to a login screen asking for a student number and password. This password is different from the Student Portal password; so if you do not know it, you may either select Forgot Password? or simply navigate to the Housing Portal again through the Legacy Portal to be automatically logged in. If you click Forgot Password, check your student email for a password.
If you receive an error that states: "The password cannot be sent", after clicking the Forgot Password option, this indicates that you have not yet been given access to the housing portal. If this occurs, you can contact Housing Operations with any further questions. 
The Housing Portal is not fully compatible with the Safari browser. If you experience problems completing your housing application in Safari, try using another supported browser such as Internet Explorer, Edge, Chrome, or Firefox and see if the issue persists.
NOTE Do not attempt to access the Housing Portal directly from links on GCU.edu. This is an improper method of accessing the website and may result in errors. 
Accessing the Housing Application
Selection and completion stages of the Housing Application take place during a scheduled time slot. You will be able to log into the Housing Portal regardless of your time slot, but will not be permitted to complete your application if you try to do so outside of you scheduled time slot. In this scenario, you will receive the following error: This section is not yet accessible, it will become available on MM/DD/YYYY HH:MM. Be sure to reach out to Housing with any further questions.
If you do not meet the requirements to apply for housing, you will receive the following error: The application process is not currently available to you. Reasons for not meeting the housing requirements include account holds and immunizations not being received or approved by housing.
As a GCU student, you will receive all email correspondence from Housing Operations to your GCU email address. If you are having trouble locating emails from Housing Operations, be sure to review your GCU email.
Returning and incoming students have different processes to apply for housing. Be sure to speak with Housing Operations if you have any questions. 
NOTE The Housing Application will not be visible to students if you have not been scheduled for classes yet; be sure to speak with your Student Services Counselor (SSC) for more information about registering for courses.