Once you have installed MAXQDA to begin your qualitative data analysis, you'll want to familiarize yourself with the program. While this article covers the basics of using MAXQDA, there are complete online tutorials, videos, PDF guides, and free webinars and additional support at Learn MAXQDA. Keep in mind that Technical Support has a limited scope of service regarding this program, and can assist with only the download process, installation process, and the basic information that is included in this article below.
To download MAXQDA, please see Downloading and Installing MAXQDA on your Mac or PC.
NOTE This software is only available to GCU doctoral students.
Creating/Saving a Project
When you open MAXQDA for the first time, a Help window will appear offering resources, tutorials, and example projects. If you are interested in viewing these, click on the items you'd like to see. To start creating a new project, click on Skip.
Next, enter your name in the field at the top. This name will be associated with all of the actions you perform with the program, such as when you create a code or write a comment. Select the option Create and open new project and click OK.
Enter a file name for your project and choose the folder you'd like to save the project to, then click Save. Make sure the file extension for MAXQDA project files is .mx12.
Once you create and save your project, you do not need to continue to save it manually. MAXQDA always saves your progress automatically.
NOTE .mx12 files are not acceptable by LoudCloud. If you would like to upload your file to LoudCloud, you will need export the project as an .xls/xlsx file type. 
Importing Documents
You can import most common file formats into MAXQDA, as well as data from third party websites like Twitter and Survey Monkey.
Importable File Formats
.doc

. docx

.htlm

.3gp

.wma

.odt

.rtf

.htm

.3ggp

.mov

.xlsx

.xls

.pdf

.mpg

.aac

.txt

.png

.jpeg

.avi

.avchd

.tif

.gif

.jpg

.wmv

.wav

.svg

.bmp

.mp3

.m4v

.mp4

.m4a

 

To import documents into your project, click on Documents, then Import document(s).
Locate and click on the file you would like to import, then click Open.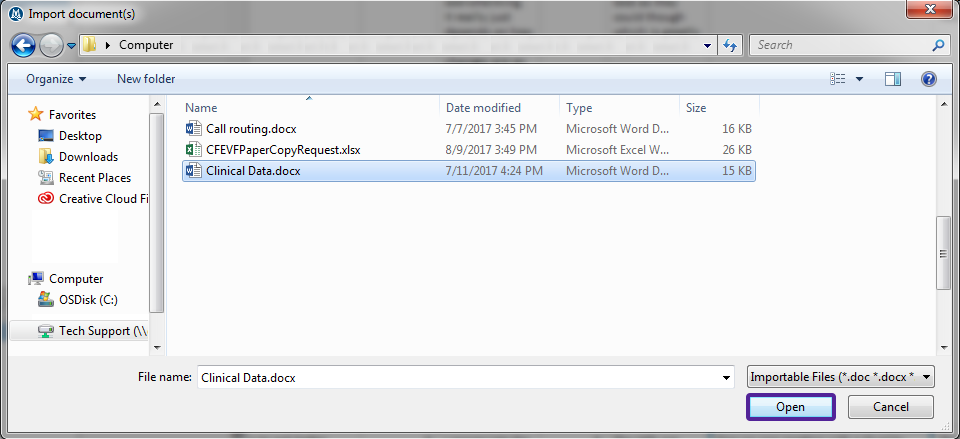 After the import is finished, you can find all of your documents in the Document System window. Double click on a document to open it in the Document browser window and begin editing!
Creating Codes
Adding codes to your data will help you organize the information, and improve your analysis. To create a code, click on the New code icon.
Enter a name for the code you would like to create, and click on the "…" to choose a color.
Then, click Choose new color on the next screen.
A Select Color window will pop up with several options, including basic colors and the ability to create custom colors. Once you have selected the appropriate color, click OK.
If you want to set this color as the default color for new codes, check the box. Otherwise, click OK.
Once you have added the new code, it will appear in the Code System window.
If you need to make changes to the code, right click over the code name to see a list of options, such as Color (to change color), Delete Code, Rename Code, and new code.
Coding Data
Once you have created code names in the Code System, highlight a section (text, image, video) and drag it onto the code name to apply the code to the section.
Once the data has been properly coded, you will see the code name and color next to it.

Opening/Closing Systems
All of the data created or imported into the project will be found in the Document System, while all of the codes you create for analyzation will be in the Code System. When you open data in the Document System, it will be shown in the Document Browser.
If any of these are closed, you can re-open them with the icons below Reports.
Clicking on the left icon will toggle the Document System.
Clicking on the middle icon will toggle the Code System.
Clicking on the right icon will toggle the Document Browser.
For more tutorials like this, check out MAXQDA's Getting Started articles.