As part of the Microsoft 365 ProPlus package we offer for free to all active GCU students, you can also download Microsoft 365 on your Android device. You may follow these steps to download any of the Microsoft 365 apps provided by GCU, such as Excel, PowerPoint, Outlook, OneNote, and OneDrive.
Search for and select Microsoft Word from the Play Store app.
Select Install.

Once the download is complete, select Open.


Enter your GCU email (username@my.gcu.edu) and select the arrow.

Enter your GCU password (the same as your Student Portal) and select Sign in.

You will be prompted to Verify your Identity upon signing in for the first time on a new device.

You will then be signed into Microsoft 365. Select an option to begin using Word.
NOTE If you choose to create your documents in OneDrive, they will be accessible on all of your devices.
Not only can you download the Microsoft 365 apps separately, but you can also download the full app from the Google Play Store. Here are the steps to do so:
Look Up Microsoft 365 in the Google Play Store
Tap the Install button
If you go to the main screen, you can see the progress of your download

Once you have it installed, you can open it by tapping the app
Once you have the app opened, you can see all the documents you have worked on. At the top of the screen you can choose which file types you would like to access.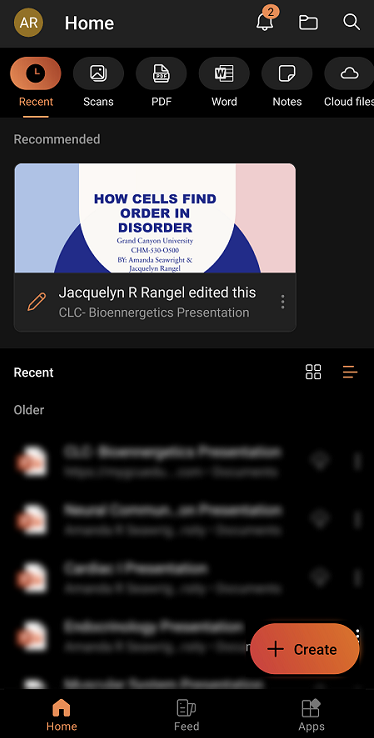 NOTE: Newer Androids already have this app installed, so you may see Open instead of Install
This interactive install guide, will walk you through the installation of Microsoft 365 on an Android device. To navigate through the guide, click on the options in the yellow boxes.