Faculty members can be assigned a few different roles in the Learning Management System. If you have more than one role in Halo, you may need to switch between your assigned roles to access certain material.
To switch roles, find your profile icon in the upper-right hand corner of your classroom and select your name. All the roles assigned to your account will be listed in a dropdown menu. Select the desired role.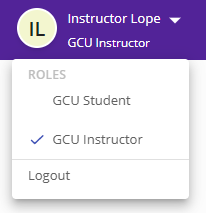 After making a selection, you will be prompted with a message asking, "Are you sure you want to switch?" Select Confirm to proceed.

The different roles allow you to access different areas of the LMS platform. The possible roles for faculty are as follows:
The GCU Student role is used when you need to access your faculty training courses.
The GCU Instructor role is used by faculty teaching courses. If you are an instructor teaching a course, ensure that the GCU Instructor role is selected when navigating your online classrooms.
The GCU Mentor role is used by faculty mentors observing new faculty. Mentors will not be able to access the course until the start date of the course.
The Instructional Assistant role is used by instructional assistants (IAs) who aid faculty with grading and other classroom management duties.