Once a class has ended, you can submit final grades for students from inside the LMS or the Faculty Portal.
Before final grades can be submitted, ensure that the following criteria are met:
The class has ended (Your current time is past midnight on the final day of the course).
All content has been graded and published.

The only exceptions to this rule are content labeled as exempt. If an item is exempt from grading, there will be a visible blue button to indicate this.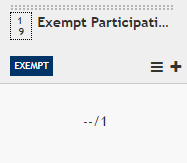 NOTE
Some courses are pass/fail only, meaning that students will either pass the course or fail it instead of receiving a letter grade. If you are teaching a course like this, you should still calculate a letter grade in the LMS as normal, but you will also need to submit a pass/fail indication inside the portal. Instead of seeing letter grades in the portal, you will see C (credit) and U (unsatisfactory) options. If you need assistance submitting grades in the Faculty Portal, see the resources available in CIRT or contact Technical Support.
Incomplete Grades
A student may ask you to submit an Incomplete Grade for them. This is like a placeholder grade that allows the student additional time to complete final assignments in the class. Incomplete Grades are not designed to assist students who have fallen behind in class and want to submit missing assignments, but rather for students that have a passing grade during the last week of class and experience extreme circumstances that prevent them from completing the final assignment(s). Four weeks after the last day of class, you must submit a final grade for the student or the Incomplete Grade will automatically convert to an "F".
If you need to submit an Incomplete Grade, the method will change based on if final grades have been submitted or not:
For assistance and additional questions on Incomplete Grades, please reach out to Faculty Training and Development at 602-639-7004 or [email protected]
NOTE Midterm grades are entered the same way, with the exception that you select the Midterm Grades tab instead of the Final Grades tab in step 5.
Additionally, you can submit final grades through the Legacy Faculty Portal if you are having issues with submitting final grades in LMS.
Start by logging into the Legacy Faculty Portal at gculegacyportal.gcu.edu. Sign in using your username followed by @gcu.edu (even if you are an adjunct faculty who typically uses an @my.gcu.edu login).


NOTE

There is also a link to the legacy faculty portal inside the Resources page of the new Faculty Portal. To access it, navigate to the Resources page and select

Grades Input

.

Then, select Gradebook and select the term that the course is in from the drop-down menu in the center of the page.


Click the box labeled Final Grades. Then, enter the letter grade for each individual student and click Save Final Grades.


NOTE Entering a grade with a plus or minus value (+/-) will not appear until you select Save Final Grade. The entry box is not large enough to show the values.

Grades are submitted successfully once you are no longer able to edit them.
To avoid time-out issues, we recommend entering 4-5 final grades at a time and clicking on Save Final Grades prior to entering additional final grades, particularly in larger classes.
Error Messages:
View the list of possible errors below for steps on how to resolve them.