Once a class has ended, you can submit final grades for students from inside the LMS.
Before final grades can be submitted, ensure that the following criteria are met:
The class has ended (Your current time is past midnight on the final day of the course).
All content has been graded and published.

The only exceptions to this rule are content labeled as exempt. If an item is exempt from grading, there will be a visible blue button to indicate this.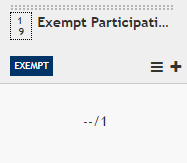 NOTE 
Some courses are pass/fail only, meaning that students will either pass the course or fail it instead of receiving a letter grade. If you are teaching a course like this, you should still calculate a letter grade in the LMS as normal, but you will also need to submit a pass/fail indication inside the portal. Instead of seeing letter grades in the portal, you will see C (credit) and U (unsatisfactory) options. If you need assistance submitting grades in the Faculty Portal, see the resources available in CIRT or contact Technical Support. 
Error Messages: