This article includes instructions specifically for the new LMS. If you are not currently testing the new LMS pilot, please see our section on LoudCloud.
Once a class has ended, you can submit final grades for students from inside the LMS.
Before final grades can be submitted, ensure that the following criteria are met:
The class has ended (Your current time is past midnight on the final day of the course).
All content has been graded and published.

The only exceptions to this rule are content labeled as exempt. If an item is exempt from grading, there will be a visible blue button to indicate this.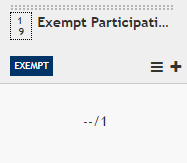 Error Messages: