Once you have access to your MyGCU Email  you may have some questions regarding the features inside the Microsoft Outlook Web App. This article will show you how to set up email forwarding, add items to your calendar, and much more!
Setting Up Email Forwarding
Open the Settings menu by clicking the sprocket

 in the upper right-hand corner of the page, then select Mail.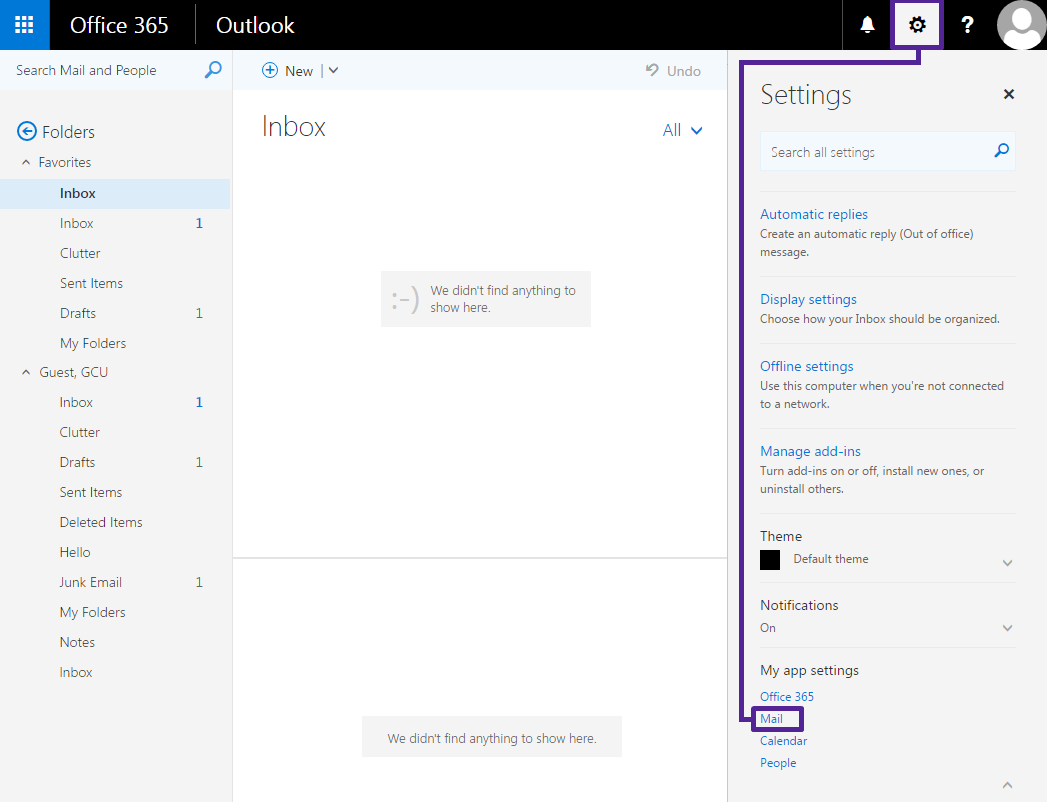 Expand the drop-down for Mail and select Forwarding within the Accounts section.
Under Forwarding, enter the email address to which you want to forward your Outlook Web App email and select Save. If you would like to keep a copy of forwarded emails, simply check the Keep a copy of forwarded messages box.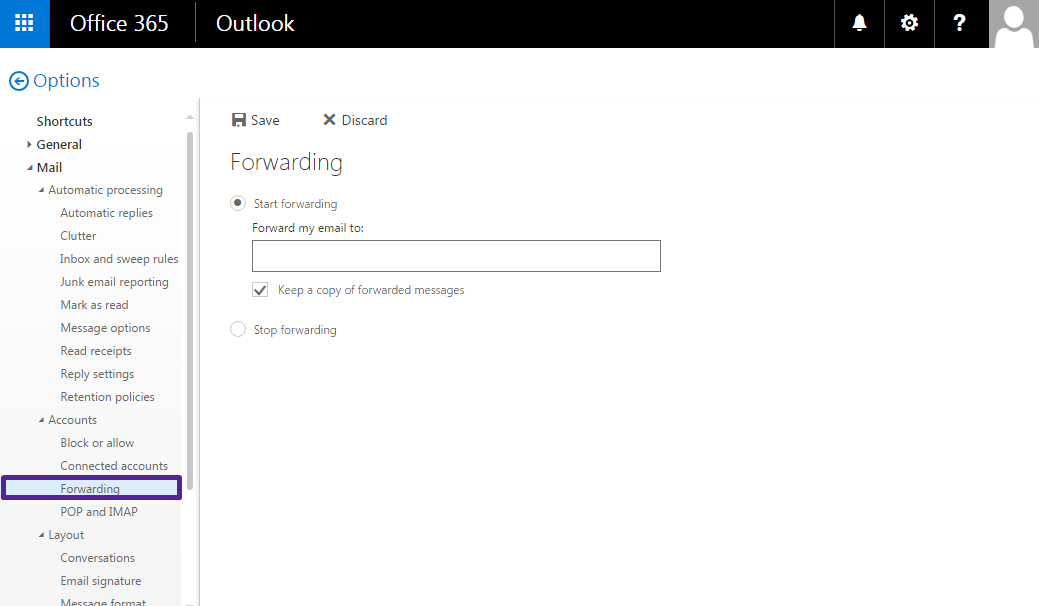 Calendar
With Outlook's calendar feature, date-sensitive communications are sent and received quickly and easily. You can create a personal calendar with class schedules, assignment due dates, and personal appointments.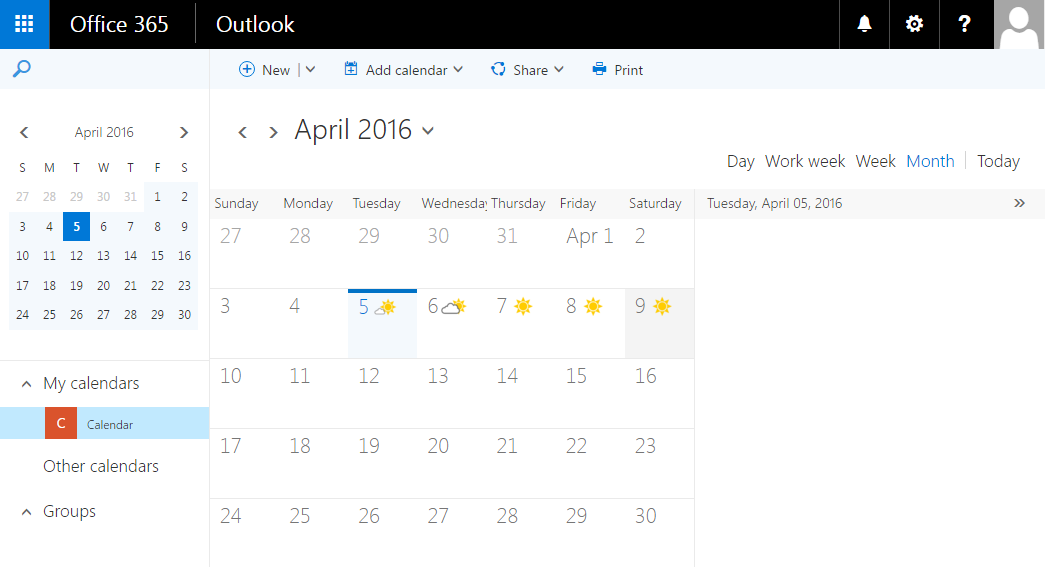 From the navigation menu, click Calendar.  To add an item or appointment to the calendar, select New or right-click on any day and select New. An appointment window will open; complete the appointment details and click Save.
To create an additional calendar, mouse over My Calendars and click the plus icon (+), or right-click My Calendars and select New Calendar. Type a name for the calendar, then press Enter.
To view the new calendar, click on the calendar name. You can also select multiple calendars and view them side by side. Likewise, to hide a calendar, simply click it again.
To share the new calendar, right-click the calendar and select Share Calendar. Enter the email addresses of those with whom you would like to share in the Share with field, type a Subject, then click Send.
Conversation View
Conversation View groups all messages with the same subject together into a quick, condensed view of the message thread.
To turn on Conversation View, click All button from the Inbox and select Conversations from the View as section.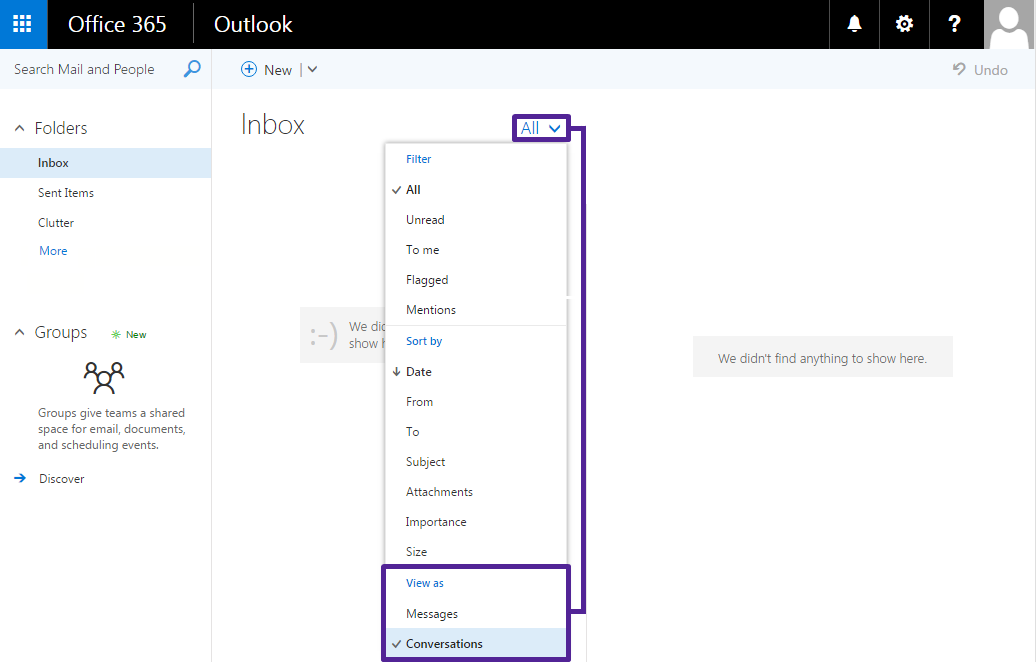 Clicking a message expands the specific email to view that section of the thread.
To turn Conversation View off, simply select Messages from underneath the View as section. Your inbox will ungroup the messages.
Creating Folders
Creating folders also helps to organize your email and reduce the clutter of your inbox. It can be helpful to create a folder for each of your courses.
To create a folder, mouse over Folders and click the plus icon (+). Type a name for the folder and press Enter.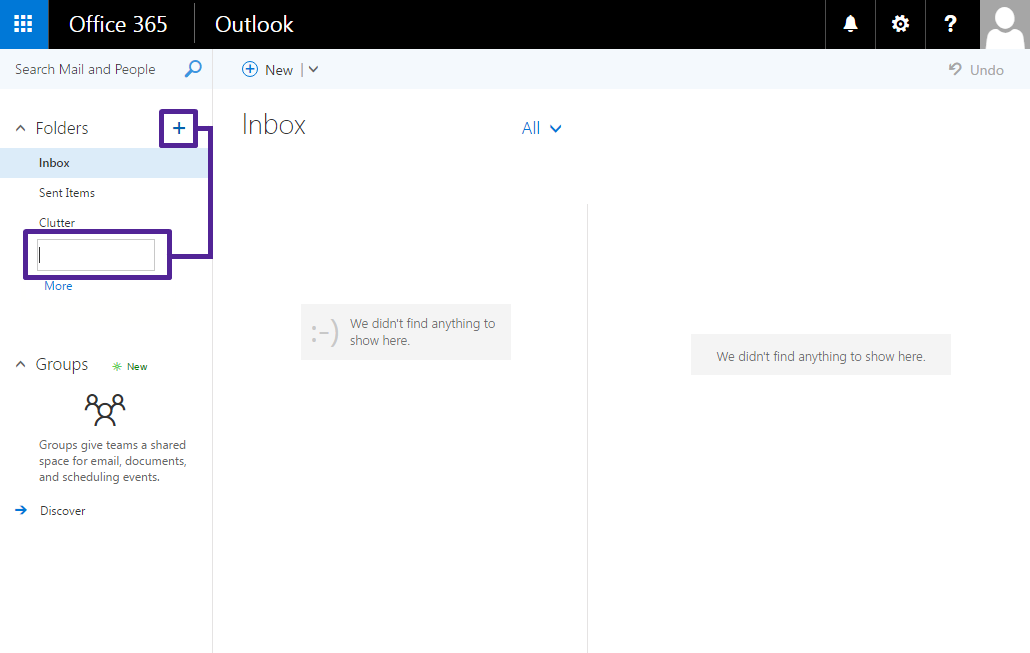 You can drag and drop messages into the folder from your inbox or create a rule to automatically move messages to the folder as they arrive.
Message Filters
Outlook's filtering feature is a time-saving tool that allows you to automatically sort and group incoming messages by sender, subject, date, and many other options.
To create a message filter, click the Sprocket

 and select Mail. Once in the Mail pane, select Inbox and sweep rules from the Automatic processing heading. Click the plus icon (+) to create a new inbox rule.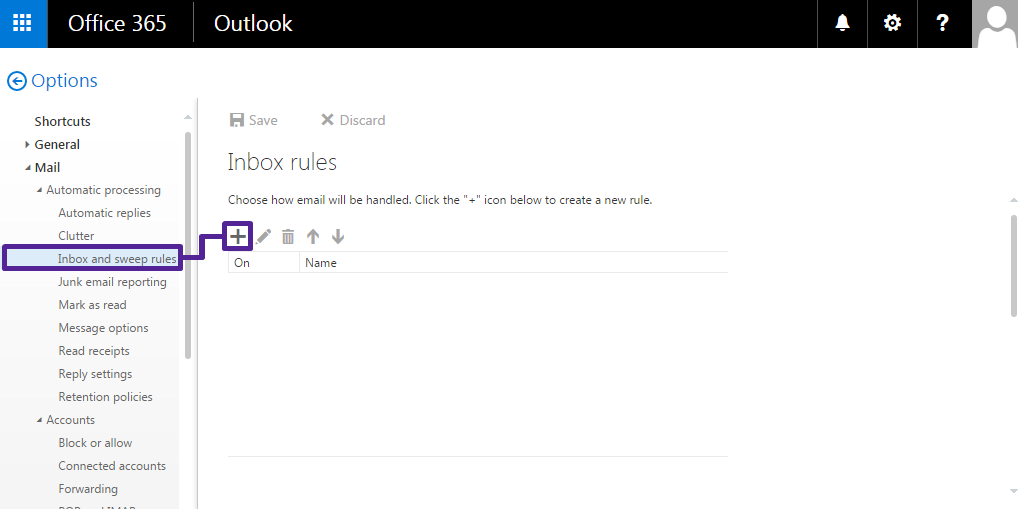 Inbox Rules can also be utilized to automatically forward or redirect specific messages sent from this inbox to another email account.
When choosing redirect, you are able to reply from your alternate email account and the reply will go to the original sender. With a forward, the message appears to have come from your student email account and replies will go there.
All original messages will still be in your MyGCU email inbox; if that inbox fills up, the redirect rule will not work. It is recommended that you still sign into your MyGCU email account regularly to clean it out. 
Group Emails
Outlook helps you save time by allowing you to quickly send messages to a group of people.
To create a new group, click People from the navigation menu. Click the down arrow next to New and click Group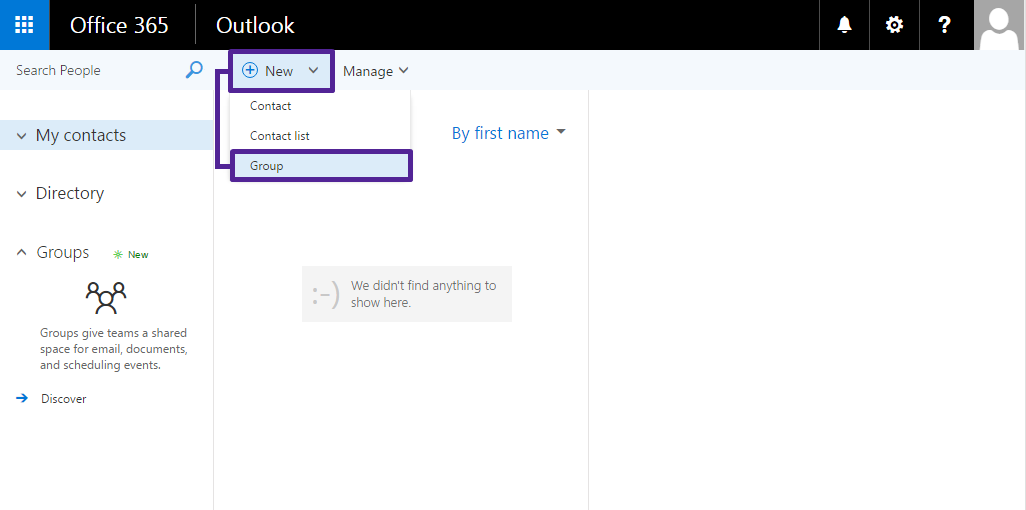 Select which type of group you would like, type a name for the group in the Choose a name field and click Create. Type the email addresses in the Add people field, pressing Enter after typing each email address. Keep in mind, you will only be able to add @my.gcu.edu email addresses to a group. Once all email addresses have been added to the group, select Add.
To send a message to the group, click Mail from the navigation menu and then click New. Type the group name in the To field and compose your message.
Outlook Light Version
If Outlook appears to be missing options, such as the ability to install Office 365, it is likely opening using the light version of Outlook Web App.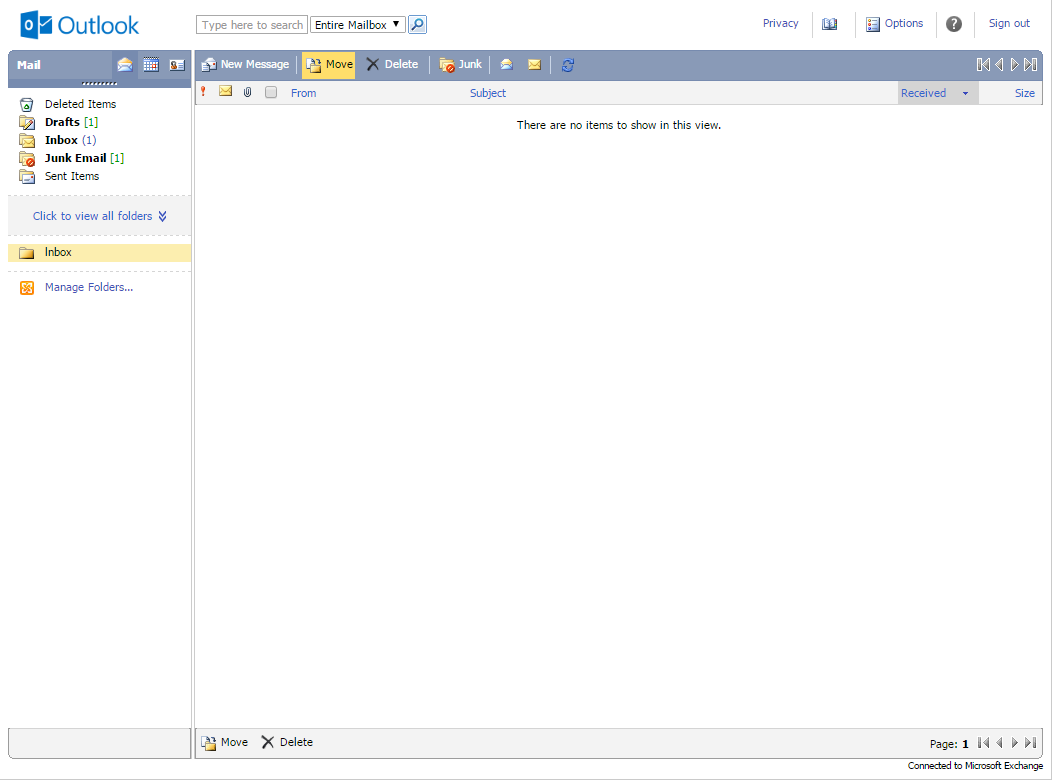 The light version of Outlook Web App is automatically opened when your browser doesn't support the standard version. If you are using an unsupported browser and you do not wish to use the light version, you will need to update your browser or download a new browser.
If your browser is supported, the light version may have been activated as a result of the blind and low vision experience option. The following steps will allow you to change from the light version to the standard version:
Select Options in the upper right-hand corner. Then select Outlook version from the Options menu.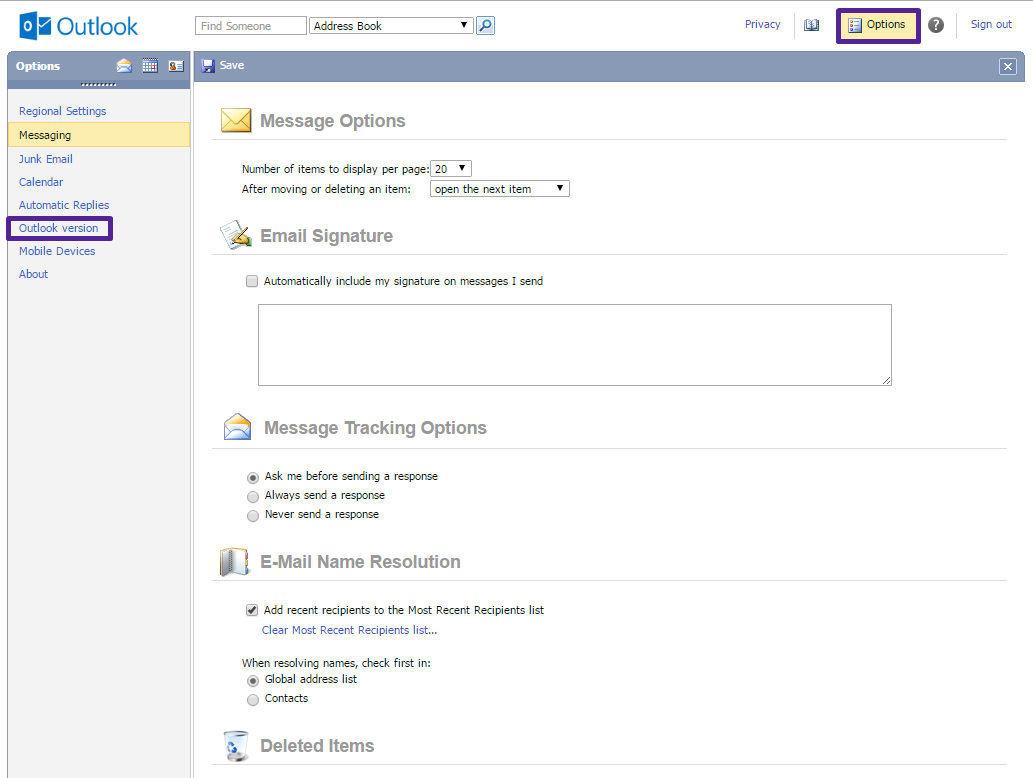 Uncheck the option Use the light version and click Save in the upper middle section of the page.
For the changes to take effect, you will need to sign out of your email and close your browser. If the changes still do not take effect, you can try restarting your computer, clearing your cache and cookies, or waiting an hour before signing in again.
Didn't find what you were looking for? Check out the Getting started in Outlook Web App article on support.office.com for more information.