The Faculty Portal is a one-stop shop for faculty resources, and includes links to your courses, GCU email, and more.
Logging In
You can access the Faculty Portal by browsing to http://gcuportal.gcu.edu/ and selecting Faculty Access. After reaching the Faculty Portal, select Sign In.

A Microsoft login page will appear, which asks you to enter your GCU email address and password.
Adjunct Faculty: username@my.gcu.edu
Full-time Faculty: username@gcu.edu
If you do not remember your password or need to reset it, select the Forgot password button that appears after entering your email address. For a full step-by-step guide on the reset process, see: Password Reset Process. Faculty may occasionally be prompted to authenticate their account using multi-factor authentication. If you're prompted to do so and need assistance, see: Multi-factor Authentication.
You can sign out of the Faculty Portal at any time by clicking the arrow next to your name, and then selecting Sign out.

The Faculty Portal Landing Page
The Faculty Portal Landing Page is divided into several functional areas. See the appropriate heading below for more information about each area.
The My Profile section is located in the upper left corner of the Faculty Portal landing page. It contains contact information and a profile photo if you choose to add one. This photo is only viewable by you, and does not apply to any of your other accounts such as the LMS or your GCU email.
Select your preferred profile image from the file explorer. Keep in mind that the only acceptable file types for this process are .png, .jpg, and .jpeg.
The My Schedule section is located at the top of the Faculty Portal landing page, and contains information about current, upcoming, past, and training courses. Each class information card contains your role, the course code, course title, modality, and start/end dates. If the class is taught on ground, the card will also display the class time and the building/classroom location on campus.
Current Classes: This tab contains information about any classes that you are currently teaching. Classes will appear in this tab once they are available in the LMS, and will automatically move to the Past tab after the course end date has passed.
Upcoming Classes: This tab contains information about classes that you have accepted a contract for, but have not yet started. Once the class is available in the LMS, it will automatically move to the Current tab.
Past Classes: This tab contains information about classes that have ended, but are still within the grading time window to submit grade changes. The class will remain in the Past Classes tab for six weeks (per the GCU University Handbook grading policy), and will disappear from view once the time limit has passed.
Training Classes: This tab contains information about faculty training and/or professional development courses. If you are enrolled in a training class as a student, it will appear within this tab.
To access a class listed in any of the schedule tabs, select the Go to Class button on the appropriate card. Please note that the "Go to Class" links for training classes may not work correctly at this time. If you're attempting to access an IFT or GFT course, we recommend logging directly into halo.gcu.edu.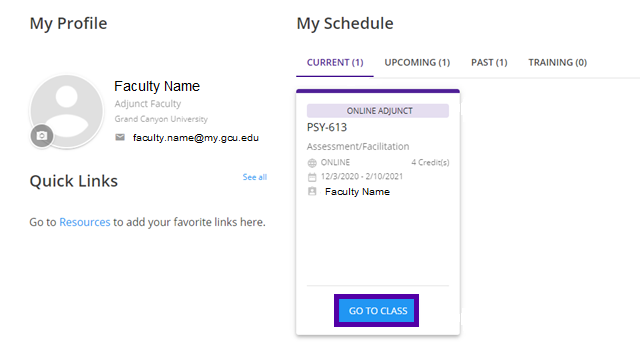 NOTE
If there are no classes in a particular category, you will see a message that states, "You do not have any [current, upcoming, past, training] courses at this time."

If you are not directed to your class after clicking Go to Class, it may be due to your browser's pop-up blocker settings. See Allowing Pop-ups on GCU Sites for information about how to fix this issue in your preferred browser.

The navigation bar is located in the upper right corner of the Faculty Portal landing page. It contains a link back to the home page, your email inbox, and additional resources.

To access your email, select the Email link. You will be taken to the log in page of your Outlook 365 account, from which you can enter login credentials and access your email inbox. For more information about accessing your GCU email, see [Faculty] Accessing Your GCU Email.
To see a list of additional resources, select the Resources link. The My Resources page will appear. This page contains links to helpful faculty resources, such as Workday, FRC, CV Builder, and more. If there is a resource that you would like to bookmark for easier access in the future, select the bookmark icon on the appropriate resource card.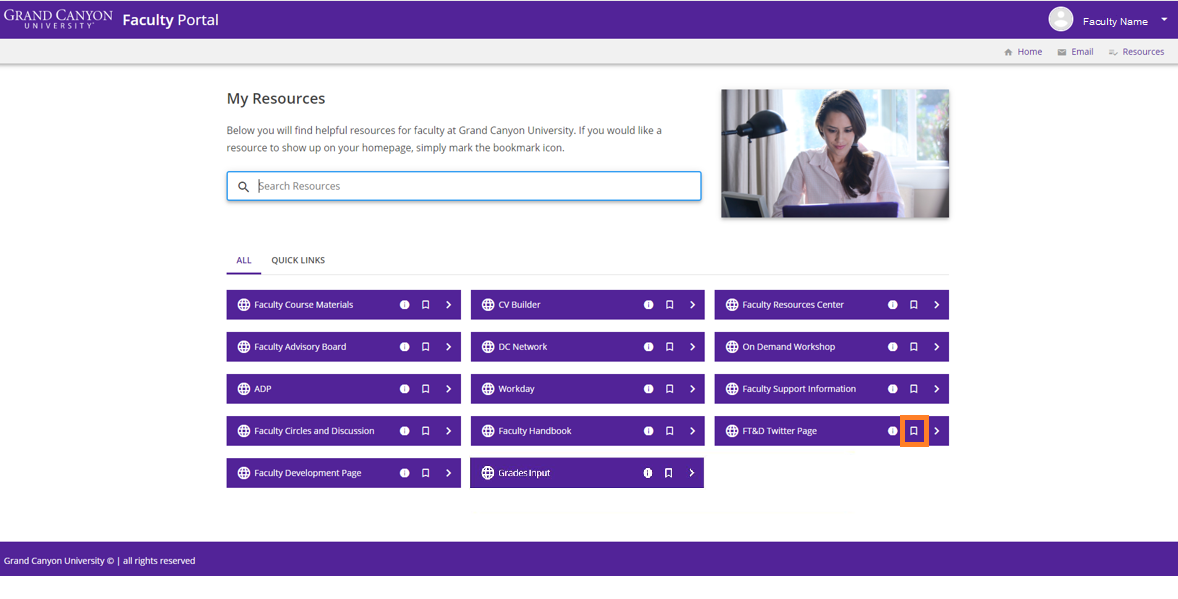 This will save the resource to the Quick Links section on the Faculty Portal landing page.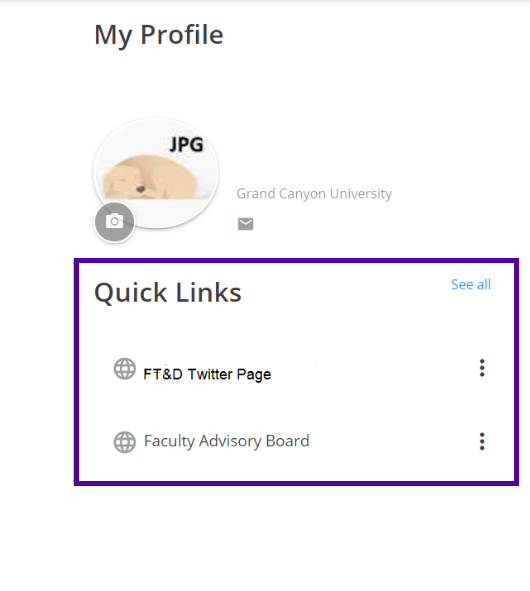 NOTE
If you're attempting to submit midterm or final grades, please navigate to
Resources
and select
Grades Input
. The grade submission process is not possible through the Faculty Portal, but can still be completed through the Legacy Faculty Portal Portal if needed. For more information, see
(Faculty) Submitting Final Grades
.
Errors and Troubleshooting