Not all classes use eBooks, even if they are delivered online. Make sure to check out Canyon Connect to see if your class has an eBook!
Select Course Materials from the list of options, then click the title of your eBook.




NOTE There may be multiple resources listed under the Course Materials heading. If you aren't sure which resource is your eBook, check the Canyon Connect Website.

Click the GCU media link that appears beneath the eBook title on the right.
Once at the Digital Resources page, click on the PDF icon. The icon will allow you to download and save your eBook. If you have a different icon, such as one that looks like a globe, check out Reading your eBooks Through the Web Viewer.
NOTE It's a great idea to save your eBooks to your computer for faster access! Saving your eBook is similar to saving any other PDF file. Right-click on the PDF icon and select Save link as (Google Chrome and Firefox) or Save target as (Internet Explorer and Microsoft Edge). You may then choose a location on your computer to save the eBook. Keep in mind that even if you save your eBook, you will still need an Internet connection in order to unlock the contents.
Make sure to open your eBook in Adobe Acrobat Reader DC! For assistance with Adobe Acrobat Reader DC, refer to our article on Adobe Reader Installation and Setup.
Safari Reader
If you have Safari's Reader View enabled, it will not allow you to view the download options for your eBook. Instead, your page will appear in a reader view format: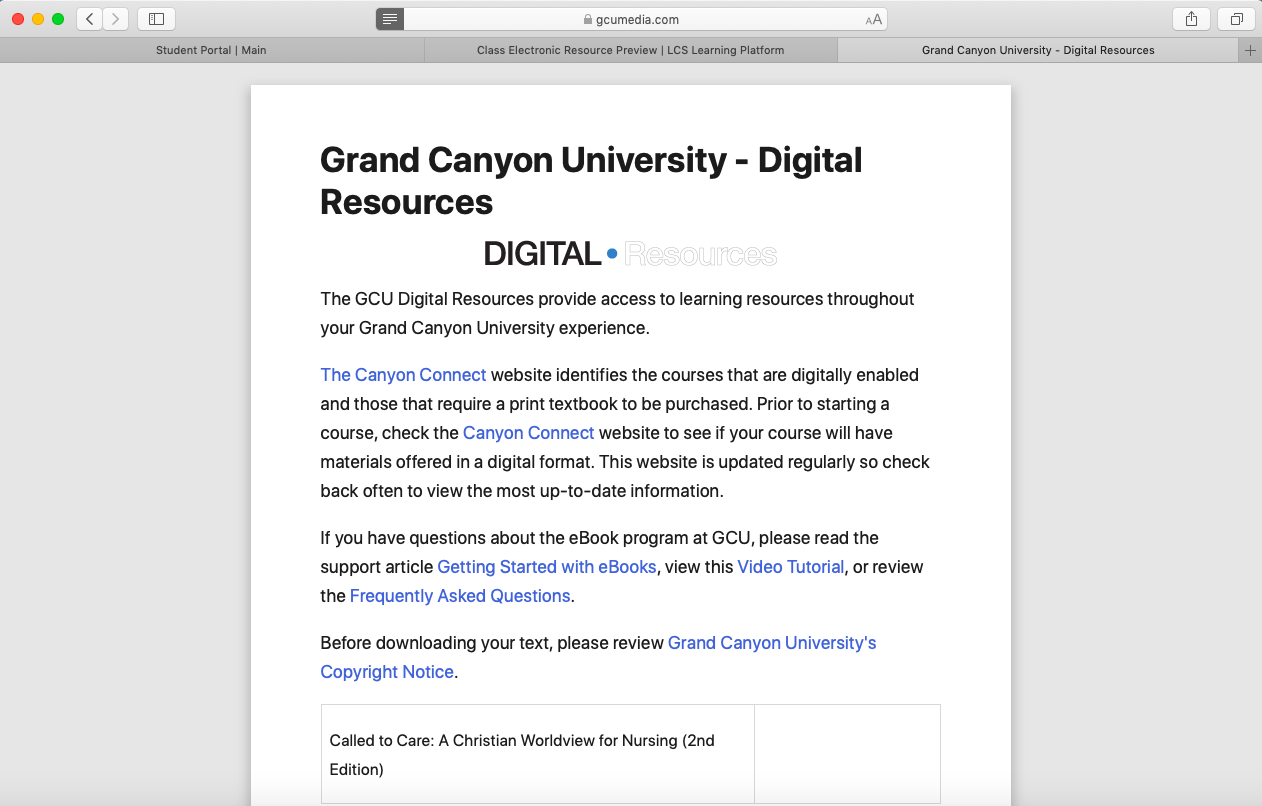 Please see Frequently Asked Questions: eBooks for steps on disabling your Safari's Reader View.
Once you have
Adobe Reader installed
, you will need to follow a few more steps to successfully unlock it:
When you have opened the eBook with Adobe Acrobat Reader DC, you will see a sign-in page as pictured below. Sign in with your GCU username (without the @my.gcu.edu) and password. Then, click Login. If you press Enter on the keyboard, it will not log you in.

NOTE If you receive an error message that says "Your credentials appear to be incorrect. Please try again or contact customer support (bw5)", you may have entered the wrong username or password or your account may be locked out. If your account is locked, you will need to contact Technical Support to get it unlocked.

Occasionally, after clicking login, you may receive a Security Warning that says "The Document is trying to connect to: https://ppdf.gcu.edu. Do you trust gcu.edu?" Select Allow to continue. This error message does not always appear when downloading your eBooks.

NOTE If you select block, you may receive one of the following errors: "Your security settings don't allow access to the protectedpdf server. You must allow access to the server in order to open the document."

Or

"Adobe Acrobat does not allow connection to: ppdf.gcu.edu" For information on how to resolve this, refer to eBook FAQs.

After you click on Log In, a yellow message will appear near the top of the screen that says "Some features have been disabled to avoid potential security risks. Only enable these features if you trust this document". Click on Options and select Trust this document always.
After making that selection, the sign in page will reload. Enter your GCU username (without the @my.gcu.edu) and password. Then, click Log In. If you press Enter on the keyboard, it will not log you in. Once your credentials are entered correctly, a message will pop up stating the eBook has been unlocked and asking if you want to be automatically signed into the eBook without needing to log in. If you are on a public computer, select No; otherwise, you can select Yes to bypass logging in.
We recommend saving a copy of the eBook to an accessible area, such as your Desktop.
NOTE If after selecting Trust this document always and logging in again on the second screen you are still not able to proceed, you may need to select Trust this document once option on the yellow bar.
Additionally, you would also want to select Trust this document once if you receive the following error message: Fixing up form field.
Still have questions? Check out our eBook FAQ!