Pageburst/Evolve eBooks is an electronic library of selected textbooks, much like an iTunes for eBooks. It allows complete access to all content and images with extensive searching, highlighting, note taking and printing to empower a customized studying experience. All required GCU Health Sciences eBooks are accessible via online access through Evolve (http://evolve.elsevier.com), downloadable to a personal computer for offline access, plus a mobile app is also available for Apple and Android mobile devices. For a list of the most current supported devices, see Vitalsource Bookshelf Support.  Along with the technicians, customers also have access to multitudes of tutorials and webinars on the Pageburst/Evolve websites. 
For Evolve Technical Support, see Evolve Technical Support for Students. 
Password Management/Account Creation
Before you can access any content, you must create an account.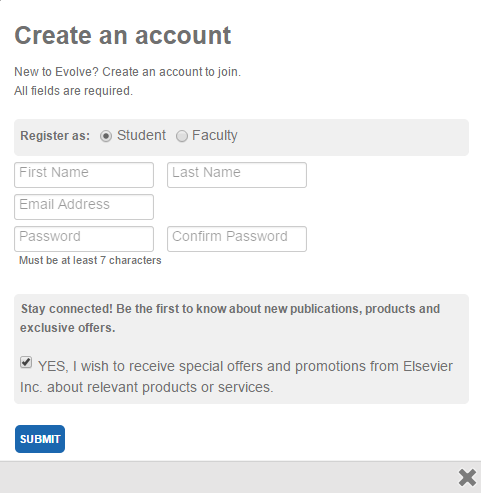 To create an account click on Create an account. Make sure Student is selected, then input your personal information, including your GCU email, and create a new password. It's best to use the same password as your GCU password. Finally, if you do not wish to receive special offers and promotions from Elsevier, you can uncheck the checkbox at the bottom.
After clicking the Submit button, you will receive an email that contains your username and password.
For more information regarding Evolve/Pageburst, check out our FAQ.