GCU provides eBooks in many of its courses in order to provide easy access to students and faculty. eBooks are made available to you as soon as you are able to log into your LoudCloud classroom. If you are unsure of where to locate your eBooks within your classroom, please check out our article on Accessing Your eBooks.
Some courses may still require print textbooks. Follow the directions below to determine if your book with use an eBook or print textbook.
Browse to canyonconnect.gcu.edu.
Next, select how you will be taking the course.
Enter the course prefix and number, then click on the Search icon. The course number can be found within your Student Portal under the Current Courses section on the homepage.
An example of a course number is: UNV-103.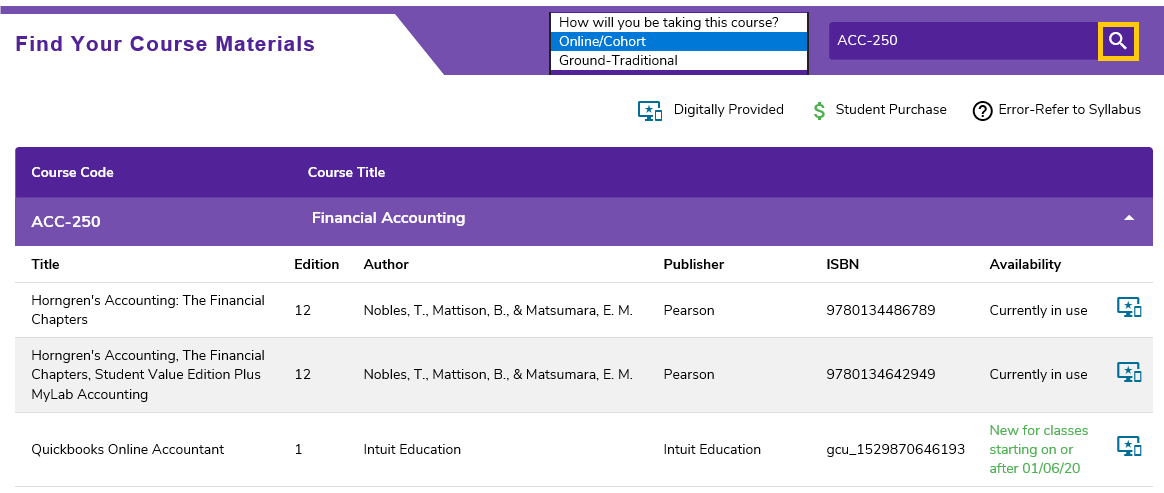 Once the list populates, you will see the course title highlighted in purple. The resource format will be listed by icon and you will find all the necessary information listed below:
Digitally Provided: Available in LMS classrooms
Student Purchase: Only available through Print Text
Error - Refer to Syllabus: No text required or detected

How do I order print textbooks?
Some courses contain electronic resources, while others may require you to obtain print textbooks. If you need the ISBN number for your textbook, you can utilize the Canyon Connect site to look that information up. If you aren't sure where to buy your textbook online, we recommend reaching out to your counselor for guidance.