New students will take the following steps when creating a new account.
Navigate to apply.gcu.edu.

NOTE You may also access the apply site by navigating to gcuportal.gcu.edu and selecting Apply.

Select Create a New Account.

Complete the form.
If you receive the following error message: The information provided does not match our records, make sure to check that you are using your name listed on your Social Security Card. If not, your University Counselor may change it.
All fields marked with an asterisk (*) are required
NOTE The email address must be typed all in lowercase.
Apply.gcu.edu Username and Password
The email address used will double as your username.
Your password must follow the guidelines listed by the password criteria link.
At least 8 characters long
Must not contain the name of the applicant
Contain a combination of numbers and letters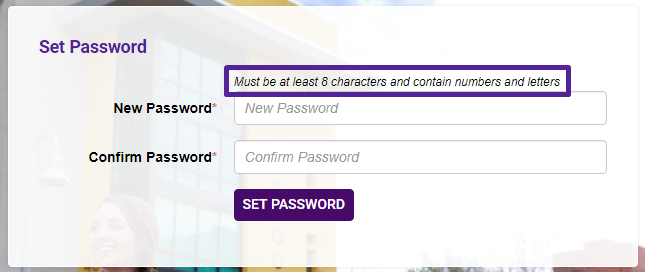 Duplicate Accounts
A University Counselor may send you an invite to apply to GCU, which will create an account for you. You will receive an email asking you to apply. Sometimes, counselors may create your account without informing you, which results in an error saying "your email address is already in the system" during the registration process. The link provided in the email must be used in order to avoid creating duplicate accounts. The link will direct you to a unique URL that will contain your counselors REP code and allow you to fill out the registration for a specific account.
If you are unable to locate the email inviting you to apply, you have the option to reset your password to access your application. To do so, click the Verify ownership link that appears when receiving the duplicate account error message shown below. After clicking the link, you will receive an email with a provided link to reset your password.
NOTE If the verify ownership message is not appearing, clear the CRM ID field prior to submission.
Multiple Records in System
If you receive an error message saying:
"The email address you provided already exists on multiple records in our system."
You may:
Click the CLOSE button then register using a different email address.
Contact your university counselor for assistance at 1-877-860-3951."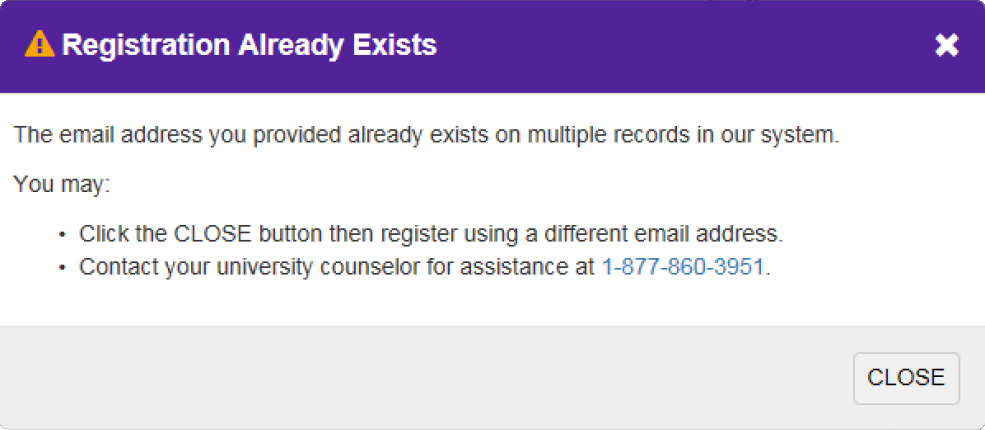 In this instance, there are two options that you may continue with:
Close the error message and register using a different email
Contact your counselor at the provided number and have your counselor merge the matching records.
Since this is a different error than the Duplicate account error, you will not be able to use the Verify ownership option.
Missing Login Managements
Occasionally, you may have an account in the system but no email on file. This means that you will not receive any password reset emails. Instead, the following error will be received when trying to reset your password:
"The email address that you entered was not found in the system! Please try again to enter the Email Address that you used when creating your Online Application account and then click the Submit button. Alternatively, you may click the Home link to the left to begin the online application process again by creating a new account or you may contact Technical Support at technical.support@gcu.edu or (1.877.428.8447)."
To access your application, click the Create a New Account option. Fill out all the required fields, including creating a password. Additionally, you will need to enter your CRM ID, which can be provided by your University Counselor or you may contact Technical Support at technical.support@gcu.edu or (1.877.428.8447).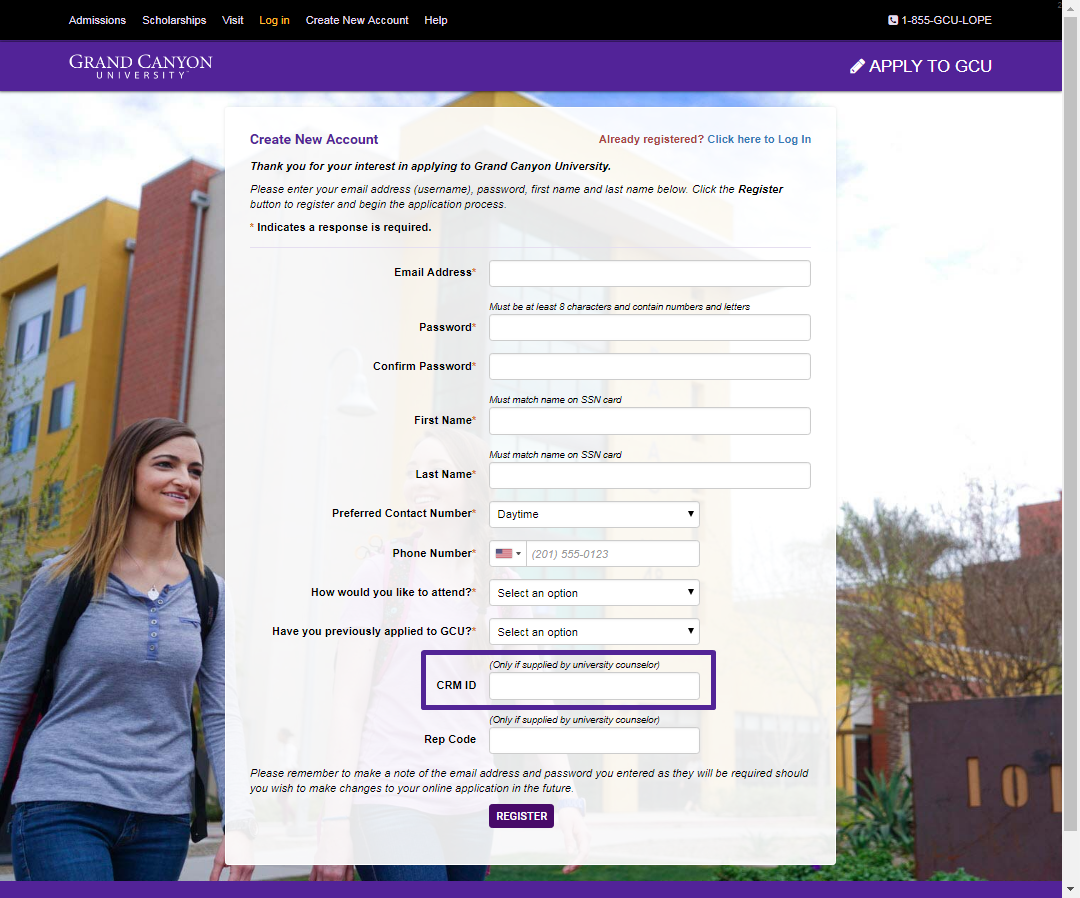 After clicking Register, you will be prompted to create security questions. After setting up your security questions, you may proceed with your application.