In select math courses, you will have access to additional study materials through WebAssign, a powerful online instructional system to enrich your learning experience.
Enrolling Yourself in a Class Using a Class Key
If your instructor gives you a Webassign class key, you can enroll yourself in the Webassign class roster. If you do not already have a WebAssign account, you can create one after verifying the class key.
To self-Enroll for a class:
Go to https://www.webassign.net/v4cgi/selfenroll/classkey.html, enter the class key your instructor gave you and click Enroll.

On the verification page, check the class information to determine if the correct class information is displayed; if so, click Yes, this is my class.

If you have an existing WebAssign account, select I already have a WebAssign account, enter the Username, Institution, and Password for your account, and click Continue.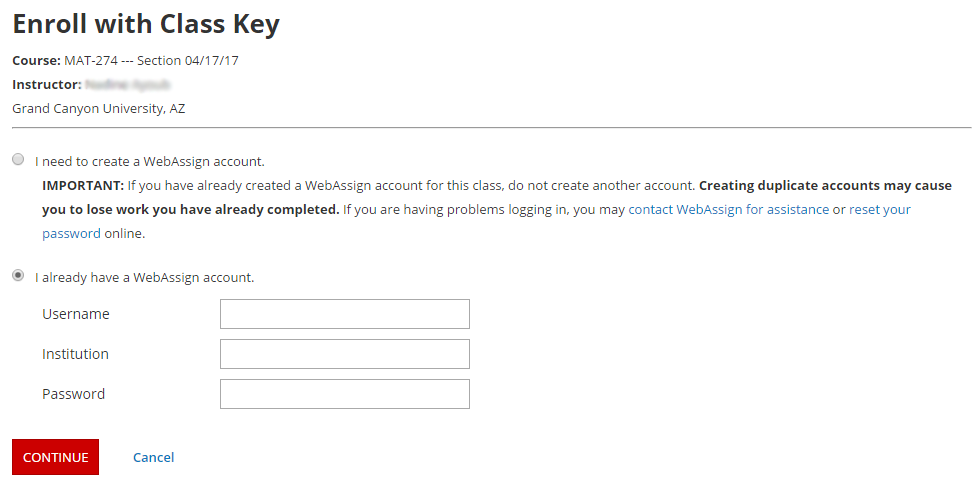 If you do not have an existing WebAssign account, you can create one by following the steps below.
Select I need to create a WebAssign account, and then click Continue.
Enter the username that you would like to use for your WebAssign account in the Preferred Username field.
Then, type a password in both the Password and Re-Enter Password fields. Please note that passwords are case sensitive.
Enter your First Name, Last Name, and Email Address, and optionally your Student ID Number.
Click Create My Account.
WebAssign will confirm your account has been created. You can click Log in now to log in to the new user account and go to your home page. Remember your username and password as you will need to enter them each time you log in.
NOTE If you forget your password, you can click the Reset Password link on the login page. If you forget your username, your instructor can look up your username for you.
For additional assistance, please see https://webassign.com/students/getting-started/.